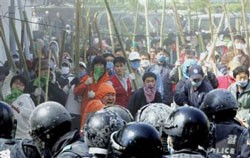 South Korean protesters wielding bomb sticks fight with riot policemen in Seoul, May 4, 2006 (AFP Photo)
The clashes occurred when the 3,000 police stormed an elementary school where hundreds of protesters were holed up, AFP photographers on the scene said.
Dozens of US military bases in and around the capital are due to be relocated to Camp Humphreys, in Pyongtaek, 70 kilometers (around 45 miles) south of Seoul under a US-South Korean proposal.
Protesters hurled rocks and wielded sticks to keep the police at bay and many, some bleeding from wounds, were arrested.
As helicopters flew overhead, troops then began to erect a barbed wire fence around a vast track of paddy fields to secure the site of the planned military base.
Police soon took control of most of the school, but dozens of protesters, including a number of Catholic priests, continued to stage a sit-in protest in one building. One banner visible from the building read: "Stop expanding the US military base in Pyongtaek! No war on the Korean peninsula!"
Some residents and farmers, backed by students and activists, had refused to leave their homes on the site to protest the government's procurement of the area.
South Korean Defense Minister Yoon Kwang-Ung had earlier threatened to use force to evict protesters.
Under a mutual defense treaty, some 32,000 American troops have been stationed in South Korea since the 1950-1953 Korean War.
Seoul and Washington have agreed to relocate 35 US military bases across South Korea in a consolidation plan. Camp Humphreys will serve as the American military headquarters.
Some 80 percent of the residents in the area have agreed to sell their land to the defense ministry and the relocation project is due to finish in 2008.
"The government has come to a conclusion that this project should not drift further," Minister Yoon said in a statement after the clashes.
Yoon warned delays were not in the national interest and would cost tax payers money.
He said his ministry would stop civilian access to the site and deploy a military guard.
Source: AFP