Brazilian forces cracking down on gang violence, an operation that has so far killed 35 people, surrounded a teeming slum and warned drug traffickers to surrender by sundown.
"Nobody wants a bloodbath," military police spokesman Lima Castro said, as 800 elite troops and hundreds of federal police prepared to invade the lawless group of slums dubbed Complexo de Alemao.
"We have night vision equipment and superior numbers," he added, as he renewed calls for the gang members to give themselves up.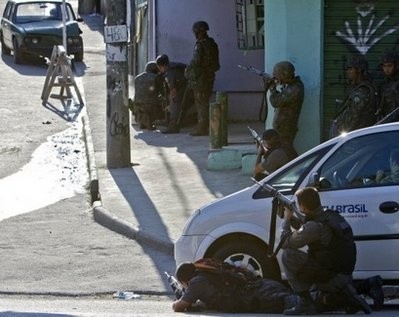 Brazilian soldiers guard the entrance to the Morro do Alemao shantytown in Rio de Janeiro, Brazil.
Police backed by helicopters and armored vehicles have squared off with the gangs in recent days, warning they will push out the traffickers.
They have insisted they will not back down in the operation to clean up this city.
"Everything is in our favor... we can fight by air, by land... they are exhausted, have no food, no water and are without ammunition," Castro said.
Media reports quoting police sources said 30 traffickers had surrendered late Saturday, but the figures could not be immediately confirmed by AFP.
According to officials, between 500 and 600 gang members were holed up in the slums where 400,000 people live.
Earlier Saturday, as a pitched gun battle continued for around 30 minutes, Military Police Commander General Mario Duarte told reporters the authorities had the gangs "outgunned".
There there was "no possibility the drug traffickers can succeed," he added.
Trouble with organized crime is nothing new in Rio.
But there is a new sense of urgency in a Brazil that has emerged as a global economic and political player, and soon will host the world at home.
Authorities are seeking to impose order on the notoriously violent slums before Brazil hosts what are two of the planet's largest sporting events: the World Cup in 2014 the Olympic Games two years later.
The slums, known here as favelas, are home to more than two million people.
"We will not be losing any ground in our move to bring peace to Rio," Duarte said, adding that authorities were awaiting surrenders. "We are getting close to the end of getting the traffickers in Alemao."
Defense Minister Nelson Jobim authorized the deployment of 10 military armored vehicles, two Air Force helicopters and 800 soldiers, to reinforce the 17,500 police already engaged in the crackdown.
Some 300 federal police were also dispatched to bolster local forces.
But authorities were not expecting an easy fight in Alemao.
Some 400,000 people live there -- more than in many Brazilian cities -- on steep hillside terrain, with bad visibility and many dead-end streets.
A local non-governmental group AfroReggae, which normally works on using music as a pacifying force in the slums, sent its director Jose Junior to try to negotiate a weapons surrender by the traffickers.
"Let's hope things get better," said one young woman who identified herself only as Carla, 26. "If they don't, we will never be able to get home."
Police forced gang members out of the Vila Cruzeiro slum with the aid of tank-like M113 armored personnel carriers and on Thursday claimed to have taken control of the densely populated area.
But scores of armed men scrambled up the hills surrounding Vila Cruzeiro toward the Morro do Alemao favela at the height of Thursday's crackdown, an indication that the fighting is far from over.
Roberto Sa, a senior official with the state of Rio de Janeiro, said that soldiers and police were surrounding the area of Morro do Alemao to prevent the traffickers from escaping.
President Luiz Inacio Lula da Silva and president-elect Dilma Rousseff both voiced support for the police sweep and offered federal backing.
On Friday, local merchants had cautiously opened their shops -- but they were still fearful that they would be forced to close if the shooting started.
"I'm terrified," said Mariza, 44, who owns a toy store in Vila Cruzeiro. "I opened for business because I have to make money to pay my rent and my bills, but I might have to close again in 10 minutes."