The US capital on Saturday faced another tough political battle after venerable US Supreme Court Justice John Paul Stevens announced his retirement from the bench.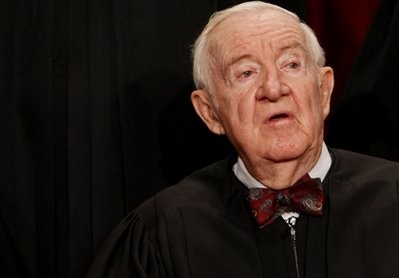 In this Sept. 29, 2009 photo, Associate Justice John Paul Stevens sits for a group photograph at the Supreme Court in Washington. (AFP Photo)
President Barack Obama vowed to quickly name a replacement for Stevens, the court's liberal standard-bearer, and said he would select an advocate for "ordinary" Americans, in comments which put his conservative foes on alert.
Stevens, who will shortly turn 90, joined the bench amid the traumatic fallout of the Watergate scandal in the 1970s, and will depart after 34 years, with bitter partisanship once again tearing at the fabric of US politics.
A president can influence American life for years after he leaves office, with the lifetime appointment of a Supreme Court justice.
Stevens's departure, however, is unlikely to change the current court's conservative leaning.
The announcement was widely anticipated, and the White House has been quietly sifting possible replacements. Obama's political foes have also built ammunition for what will be a brutal political struggle over his nominee.
"I shall retire from regular active service as an associate justice... effective the next day after the court rises for the summer recess this year," the soft-spoken Stevens wrote in a letter to Obama.
He said he took the decision so a successor could be in place before the court, which adjudicates the thorniest legal, political and constitutional questions, begins its fall term in October.
Obama, who learned of Stevens's decision while flying home from Prague aboard Air Force One, lauded the Chicago-born judge as an "impartial guardian of the law" who had worn his robes with honor and humility.
Setting the parameters of the confirmation fight, Obama said he would seek someone with "similar qualities" as Stevens -- "an independent mind, a record of excellence and integrity, a fierce dedication to the rule of law."
Obama pledged to choose a candidate who understood how "the law affects the daily lives of the American people.
"It will also be someone who, like Justice Stevens, knows that in a democracy, powerful interests must not be allowed to drown out the voices of ordinary citizens."
Conservatives accuse judges of the type seemingly favored by Obama of being "activists" who are more keen to "legislate from the bench" than confining their rulings to a strict interpretation of the US Constitution.
"Even if Justice Stevens's liberalism has led to many decisions I oppose, I respect his devotion to the institution and the gentlemanly manner in which he always carried out his work," said Senate Republican leader Mitch McConnell.
"Americans can expect Senate Republicans to make a sustained and vigorous case for judicial restraint and the fundamental importance of an even-handed reading of the law," McConnell said, hinting at a tough confirmation struggle.
The New York Times, a liberal newspaper, noted that Justice Stevens "has been an eloquent voice for civil liberties, equal rights and fairness" and argued, in an editorial, that "Obama should fill his seat with someone equally committed to these principles."
The president, a former constitutional scholar himself, has had an unusually delicate relationship with the Supreme Court, after he chided a ruling on campaign finance in front of justices during his State of the Union address.
Obama will be making his second pick to the top court after naming Sonia Sotomayor as the first Hispanic Supreme Court justice last year.
Stevens, at the time a moderate Republican, was nominated by former president Gerald Ford and has sat on the bench since 1975, carving out a reputation as an unlikely dissenter as the court became more conservative.
With his white hair, round glasses and bow tie, his goodhearted appearance masked a crafty legal mind. He was a holdout when the Supreme Court ultimately decided the 2000 election in favor of George W. Bush over Al Gore.
Professor Jonathan Turley of George Washington University law school described Stevens's retirement as "an understandably sad moment for liberals."
"It is not just the loss of one of the clearest voices for civil liberties and equality. It is the departure of the last of the court's 'greatest generation,'" Turley said.
Stevens nearly beat the record of his long-serving predecessor, William Douglas, who served for 36 years.
Born in 1920 in Chicago as the youngest of four siblings, Stevens first threw himself into the study of literature in the hope of becoming a professor like his mother.
But he turned to law after joining the US Navy following the attacks on Pearl Harbor, serving as an intelligence officer from 1942 to 1945.