BANGKOK, Aug 16, 2011 (AFP) - They zip through the traffic-choked streets of Bangkok, but the capital's motorcycle taxis are more than just a means of transportation -- they are also a potent political force.
Thailand's motorbike taxi association president proudly displays a stylised portrait of his hero, fugitive former leader Thaksin Shinawatra, emblazoned on the orange vest that marks him out as a "moto" driver.
"We miss Thaksin, 100 percent," Chalerm Changthongmadan said of the former billionaire tycoon, who was ousted in a 2006 coup and whose sister Yingluck Shinawatra is the new premier after storming to victory in a July 3 election.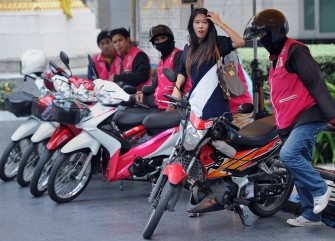 AFP - This photo taken on July 28, 2011 shows a Thai office worker (2nd R) negotiating for a motorbike taxi ride for transport in Bangkok. They zip through the traffic-choked streets of Bangkok.
Thaksin is adored by many poor and working class Thais for his populist policies while in power, such as microcredit schemes and cheap healthcare, and the motorcycle taxi riders are among his biggest fans.
Officially, there are a little more than 100,000 motorcycle taxis in Bangkok, but Claudio Sopranzetti, researcher in anthropology with Harvard University in the US, believes there could be around 200,000.
Sopranzetti said that after Thaksin took power in 2001 he moved to formalise the motorbikes as part of efforts to combat "dark influence, which basically meant a fight against different kinds of corruption and local mafias".
He said the taxis, which are estimated to generate a total 100 million baht ($3.3 million) a day, were originally run by police-backed local mafias.
But these forces were pushed out as Thaksin sought to register each driver and equip them with the orange vests that have become their uniforms.
In the five years since his ouster, however, the taxis' "protectors" have crept back into the picture, he said, extorting an estimated 1,000 baht a month on average from drivers, who earn about 300-1,000 baht a day.
With about 70 percent of taxis tapped for a slice of their income, the bikers are keen to see an end to the corruption.
"We can only wait for the new government to order the police to stop backing up mafia, then we can live," Chalerm said.
The bikers do not just nip through Bangkok's congestion carrying passengers -- they deliver documents, food and act as a kind of neighbourhood watch on the street corners from which they operate.
"The city would not function without them," Sopranzetti said.
But he said the motorbike taxis are also a political entity -- with around 80 to 90 percent linked to the pro-Thaksin "Red Shirt" protest movement. Many hail from Thailand's rural northeast -- the heartland of Thaksin supporters.
Of those, he said around 20 to 30 percent were "in the middle of the movement", whose Bangkok rallies in April and May last year ended with an army crackdown and more than 90 people dead.
"When there was a situation of violence in the city, their knowledge of backdoors and shortcuts got really, really important," he said of the protests against a government that the Red Shirts saw as undemocratic after it came to power following the removal of two Thaksin-allied administrations by the courts.
During the demonstrations, which brought key areas of Bangkok to a standstill, the bikers acted as "fast moving troops", according to Chalerm.
"When the leaders were surrounded by police, we would go to them and help them," he said.
Fellow biker Suksomboon Makadee recalls riding at the head of a "Red" convoy with a giant Thai flag flying two metres above his motorbike on April 28 last year.
"My flag was shot, riddled with holes," he told AFP during a break from his work.
If Thaksin, who lives abroad to avoid a jail term for corruption, were to return, Suksomboon said he would lead a group of motorbikes to the airport to welcome him back to Thailand with a fanfare.
"We love and respect Thaksin. He is not my relative but I love him because he helped to improve our lives," he said.
Yingluck has pledged to relaunch many of Thaksin's policies and her Puea Thai party's election campaign included promises for a rise in the minimum wage, although the motorbike taxi drivers are self-employed.
Puea Thai spokesperson Prompong Nopparit said the government would "bring the old policies back and we will make them better this time".
He said the focus would not just be on the cost of living, but on Thailand's "mafias" -- a target familiar from Thaksin's years in power and well known to Bangkok's motorcycle taxi drivers.