Donald Trump has historically low approval ratings, but would still have voters' support in a row with Congress, polls suggested Wednesday, source from Vietnamnews.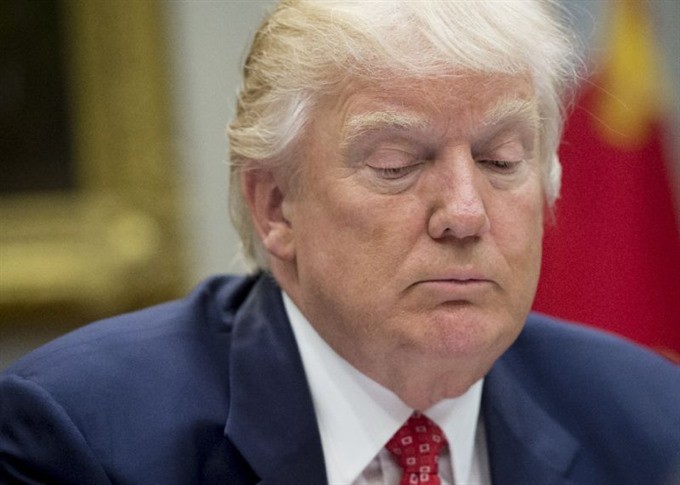 US President Donald Trump speaks during a meeting about the federal budget in the Roosevelt Room at the White House in Washington, DC, February 22
Fresh surveys showed Trump's popularity is languishing -- threatening to sap his political capital just weeks into a four-year term.
A Quinnipiac University poll reported 38 per cent of voters think Trump is doing a good job. Fifty-five per cent believe he is doing a bad job.
That is unparalleled for a modern president so early in his term.
Perhaps worse for the White House, 63 per cent of voters said Trump is not level-headed and 55 per cent said he is not honest.
For any normal politician, those numbers would be disastrous -- emboldening political rivals and encouraging allies to keep their distance.
Many in Washington are already looking toward Congressional elections in 2018, which present a challenge for incumbent Republicans.
Mid-term elections often serve as a referendum on the president and Democrats are baying to retake 24 seats and control of the House of Representatives, which would put a serious check on Trump's agenda.
Against that backdrop, Republicans may be stuck between an unpopular president and public opprobrium.
Congressional Republicans privately fret that opposing Trump could invite angry tweets, a grassroots firestorm and perhaps even a Trumpite challenger in the next party primary.
They may have reason to worry. A Pew Research poll released Wednesday showed rank-and-file Republicans are still likely to back Trump in an argument with party lawmakers.
"About half of Republicans and Republican-leaning independents (52 per cent) say that if Trump and Republican congressional leaders disagree on an issue, they would be more likely to trust Trump," Pew said.
"About a third (34 per cent) say they would trust GOP leaders if they have a disagreement with the president."