VATICAN CITY, Dec 19, 2009 (AFP) - Pope Benedict XVI on Saturday declared his predecessor John Paul II "venerable," moving the long-serving Polish-born pope closer to sainthood, the Vatican said.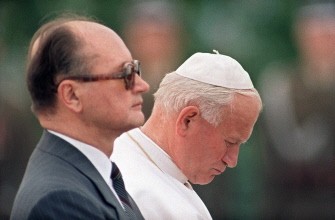 This file picture taken on June 14, 1987 shows Pope John Paul II (R) accompanied by Polish Premier General Wojciech Jaruzelski while listening to the Polish anthem at Warsaw`s Okecie airport at the end of the Pope third visit to Poland (AFP photo)
The decree bestowing the title is the first step towards beatification and eventual sainthood for the charismatic Pole who headed the Roman Catholic Church for nearly three decades.
Pope Benedict launched the lengthy process -- which can take decades if not centuries -- just two months after the death in 2005 of John Paul II, whose funeral was marked by calls of "Santo Subito" (Saint Now).
The final stage for beatification is providing evidence of a miracle, usually a medical cure with no scientific explanation which is reviewed by several commissions.
In John Paul II's case, the miracle under consideration -- and subject to another papal decree -- involves a French nun who was cured of Parkinson's disease in 2005.
Vatican watchers expect Benedict to approve the beatification, which could be celebrated next year, either on the April 2 anniversary of his death or in October on the anniversary of the start of John Paul II's papacy in 1978.