CASTEL GANDOLFO, Italy, Aug 23, 2009 (AFP) - Pope Benedict XVI said on Sunday that his right hand was "still a bit lazy" two days after a plaster cast was removed from his broken wrist.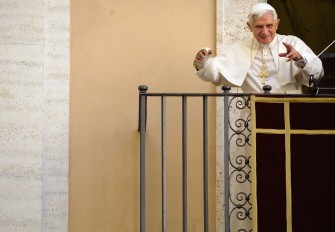 Pope Benedict XVI waves to faithfuls from the courtyard balcony of his summer residence of Castelgandolfo during his weekly general audience, 30 km southeast of Rome, on August 19, 2009 (AFP photo)
On Friday a doctor removed the plaster from the pope's right wrist, around a month after the head of the Roman Catholic Church broke it in a fall.
"You see my hand has been freed from the plaster cast but it is still a bit lazy," Benedict told pilgrims during his weekly Angelus service at Castel Gandolfo, his summer residence near Rome.
The plaster has been replaced by a dressing and a pin has been inserted in his wrist to keep the bones in place while the fracture fully heals.
The 82-year-old pope's doctor, Patrizio Polisca, has said the pope would have to undergo therapy and special exercises to get the full use of his wrist back.
Benedict fell in his room overnight from July 16 to 17 while on holiday in the Italian Alps and underwent an operation on the fractured wrist.