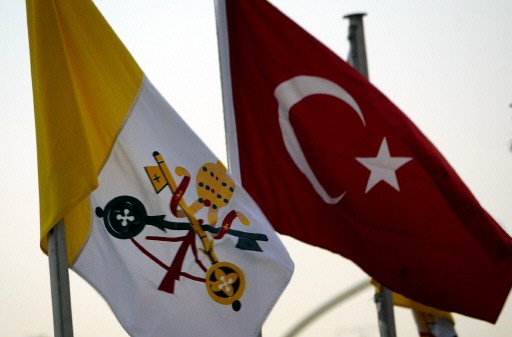 A Vatican flag and a Turkish national flag flultter in Ankara, Nov. 27, 2006 (AFP Photo)
Pope Benedict XVI was expected in Ankara on Tuesday at the start of a delicate four-day visit, his first to a Muslim country, under a cloud created by his controversial remarks in September linking Islam and violence.
The 30-kilometer (20-mile) road to the airport was closed to traffic and bomb disposal experts inspected tunnels as police deployed heavily along the main arteries of the Turkish capital, festooned with Vatican and Turkish flags.
The pope's welcome will be slightly less chilly than expected, since Prime Minister Recep Tayyip Erdogan, a conservative with Islamist roots, agreed at the last minute to a brief airport meeting shortly after the pope arrives and just before Erdogan flies off to a NATO summit in Riga.
The Vatican hailed the move, calling it a "much appreciated ... gesture of attention."
Benedict, speaking to reporters just before taking off from Rome on Tuesday, said his goal was to promote "understanding and dialogue between cultures," pointing to Turkey as the "bridge" between Western and Muslim cultures.
A series of protests against the pope's impending visit have been held in Istanbul, the largest one on Saturday drawing about 15,000 people.
The pope's stop in the Turkish capital will be purely political, as secular officialdom will greet him as the Vatican head of state rather than spiritual leader of the world's 1.1 billion Catholics.