GODOLLO, Hungary, April 8, 2011 (AFP) - Under-pressure Spain's Finance Minister Elena Salgado said Friday that Portugal would "of course" be the last eurozone country to need a giant debt bailout.
Salgado was asked the question as she arrived for talks between European Union finance ministers in Hungary, which will address Lisbon's overnight request for a massive bailout.
News of the bailout request drove speculation that Spain would now suffer on money markets.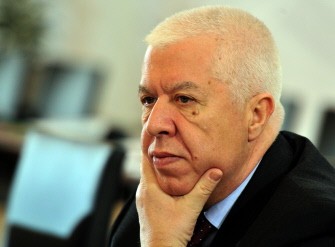 AFP - Portuguese Finance Minister Fernando Teixeira dos Santos waits on April 8, 2011 for the start of an informal meeting of EU finance ministers in Godollo, near the Hungarian capital Budapest
Spain is striving to distance itself from Portugal, whose finance minister blamed successive downgradings by credit rating agencies that he said "really forced us to request the financial support."
It was "early to mention any kind of figure," Fernando Teixeira dos Santos said, stressing that "how much" Lisbon wants to borrow "will also depend on for how long" loan repayments will be required under the final negotiated bailout.