Portugal will not need a bailout despite its spiralling borrowing costs, Spanish Finance Minister Elena Salgado said on Monday.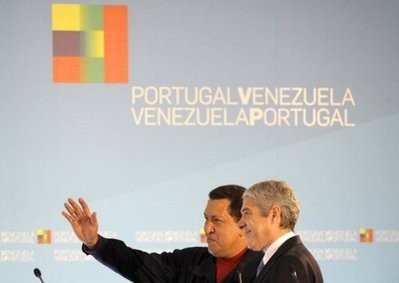 Portuguese Prime Minister Jose Socrates (right) with Venezuelan President Hugo Chavez in October at a signing ceremony for renewable energy projects in Portugal.
"Portugal will not need any external aid," she told Cadena Ser radio when asked about the possibility that Lisbon will apply for rescue loans from the European Union and the International Monetary Fund.
"I think that Portugal will not need any bailout because it its meeting its targets. It has structural weaknesses but it is carrying out the needed reforms," she added.
The rate on Portuguese 10-year debt rose to 7.104% from the closing value on Friday, when it reached a record of 7.193% during trading.
Portugal is viewed by many analysts as the eurozone country most likely to follow the example of Ireland and Greece and seek a bailout as it grapples to cut its debts and borrowing costs.
The situation in Portugal is considered to be significant for Spain, partly because Spanish economic interests are heavily exposed in Portugal. Spain has the fifth-biggest economy in the European Union.
Portuguese Prime Minister Jose Socrates denied over the weekend a report by German weekly Spiegel that Germany and France plan to press Lisbon to seek a bailout in order to stop Spain and Belgium from becoming the next euro crisis casualties.
Lisbon argues its situation is different because its deficit and debt are lower, it has no property bubble and its banks are not troubled.
The Portuguese government said on Thursday that it met its 2010 budget deficit target of 7.3 percent of gross domestic product, down from 9.3 percent in 2009 as it seeks to balance the strained public finances.
For this year, the government has set a budget deficit target of 4.6 percent, still above the EU limit of 3.0 percent.