The US relief mission in Haiti remains focused on saving lives but American troops could be called on to help keep order if security deteriorates, officials said.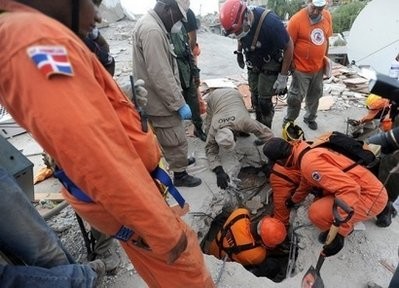 Members of a Dominican rescue team attempt to save a victim trapped amid the rubble of a destroyed building in Port-au-Prince. (AFP Photo)
With more than 5,000 US ground troops bound for Haiti this week as part of a major relief effort after Tuesday's devastating earthquake, US and international officials were watching closely for signs of potential rioting or unrest.
"At this time we're not seeing any security concerns," a defense official, who spoke on condition of anonymity, told AFP.
"The focus of the US troops on the ground will be providing humanitarian assistance and relieving the suffering of the Haitian people."
But he added: "Soldiers and Marines are trained to conduct security operations if they need to."
Haiti has no army, and its police forces have all but collapsed in the aftermath of the country's worst earthquake in over a century.
Security has fallen almost entirely to the UN peacekeeping mission, whose force of 7,060 troops and 2,091 police have been deployed since 2004 to help stabilize the impoverished Caribbean nation of nine million.
Amid looting and scenes of chaos, some rescue crews in the Haitian capital said they faced dangerous conditions that forced them to stop work at nightfall.
"Our biggest problem is insecurity. Yesterday they tried to hijack some of our trucks. Today we were barely able to work in some places because of that," said Delfin Antonio Rodriguez, civil defense chief and rescue commander for the Dominican Republic, whose teams worked to rescue victims trapped under rubble in Port-au-Prince.
Mounting tensions in the street could complicate international plans to pour in aid and assistance but US officials said they were not alarmed over the state of security at the moment.
The Pentagon said a 3,500-strong brigade from the 82nd Airborne ordered to deploy to Haiti -- with an advance corps of 100 arriving late Thursday -- would be charged in part with maintaining a "safe environment" for the delivery of humanitarian aid.
More than 2,00 Marines heading to Haiti over the weekend also could be asked to carry out a similar role, officials said.
Ensuring safe conditions was crucial for a steady flow of international aid and urgent medical care, the US State Department said.
"Obviously, in those situations, one of the keys is maintaining law and order," spokesman PJ Crowley said. "So far it's been pretty good."
He said US efforts were designed "not only to provide life-saving support to the Haitian people, but to rebuild the capacity of the Haitian government."
US officials are anxious to avoid a breakdown in order that could trigger a mass exodus from the impoverished country as in years past, with desperate Haitians on rickety boats trying to flee to US soil.
But diplomats and military officers were cautious in discussing the sensitive issue, stressing that Americans were not out to assert control in the Caribbean nation and would work to support the Haitian authorities and the UN peacekeepers.
"I'm confident that this government (in Haiti) is not looking for the US to take over," said State Department counselor Cheryl Mills.
"They are looking for a partner, and we will be their partner and provide the kind of leadership that is necessary... but we have no intention of supplanting the leadership of Haiti," she said.
In natural disasters elsewhere, armed US combat troops have provided security for engineers or other expert teams.
But US officers said their military sometimes has to tread lightly to avoid antagonizing the population they are trying to help.
Mindful that a heavy military presence could backfire, some US Marines helping with humanitarian efforts in Indonesia after the 2004 tsunami operated without weapons, helmets or flak jackets.
General Douglas Fraser, head of the US Southern Command, said Wednesday that the situation in Haiti was "calm" and that it was too early to speculate about possible security operations.
The general praised the United Nations Stabilization Mission in Haiti (MINUSTAH), and said the peacekeeping force had performed a "significant job in sustaining and maintaining stability and security within the country."
"So we will work with MINUSTAH and get assessments and figure out what the security situation is and then decide what to do from there," he said.