BANGKOK, Nov 25, 2011 (AFP) - Thailand will not adjust a raft of populist policies, including minimum wage increases and a new rice price scheme, despite fears they could fuel inflation following devastating floods, a minister said.
The economy is expected to take a major hit as a result of the worst floods in half a century, with the growth forecast for 2011 recently revised down to 1.5 percent, from 3.5-4.0 percent.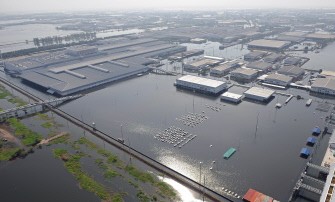 (AFP FILES) This aerial picture shows cars submerged in floodwaters at a Honda automotive factory at an industrial estate in Ayutthaya province on November 19, 2011.
"This will not derail us from the aim of rebalancing the economy," deputy prime minister and commerce minister Kittiratt Na-Ranong told reporters in Bangkok late Thursday.
Inflation edged up in October as widespread damage to farmland forced food prices higher. The consumer price index rose 4.19 percent in the month from a year earlier, against a 4.03 percent rise in September.
In addition, Thailand -- the world's biggest rice exporter -- introduced a scheme last month to lift by 50 percent the price that rice farmers receive from the government for the staple grain.
The move, part of an array of promises that helped propel former premier Thaksin Shinawatra's allies to victory in a July election, has fuelled speculation that world prices could be set to surge.
Kittiratt dismissed concerns that the kingdom could hurt itself with the policy, which would make exports less competitive, saying that the global price of rice was too low and should increase.
"Plain rice has good reason to be more expensive than it is... why is plain rice now only a third of the cost of a bottle of water?" he said.
The government is boosting the minimum price farmers receive by buying unmilled rice directly at 15,000 baht ($485) per tonne. The previous price was about 10,000 baht.
"Since the floods, many people have asked me: will we try and adjust policy -- I told them that we won't," he said, adding that if consumers do not pay higher prices for Thai rice, farmers would be helped to grow new cash crops.
The government will also stick to plans to raise the minimum wage from the current 215 baht per day to around 300 baht in Bangkok. "It is the job of any government to take care of our own people," Kittiratt explained.
Huge swathes of central Thailand were left under water for weeks when severe monsoon rains caused massive deluges -- ruining crops, closing thousands of factories and swamping millions of homes.
Exports have taken a hit and tourism has also suffered as visitors are put off by dramatic images of buildings and temples marooned in vast pools of water.