The potential collapse of the Detroit Three carmakers capped a turbulent year in the global automotive industry in which worldwide sales crashed and iconic brands swapped hands.
Cash-strapped General Motors and Chrysler managed to secure a last-minute lifeline of up to 17.4 billion dollars in government-backed loans after weeks of wrangling in Washington.
But analysts warned it could be a just temporary reprieve amid a perfect storm of a global credit crisis, rapidly falling demand for vehicles and a global economic slump.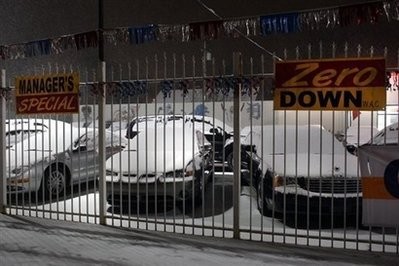 Snow lies on cars at a dealership in Detroit, United States.
"Friday's bailout does not mean bankruptcy for all of the Detroit Three has been avoided," JP Morgan Chase analyst Himanshu Patel wrote in a recent research note.
While Ford says it has enough cash on hand to see it through a moderate slump without government help, all three automakers will be at risk if sales don't improve. Chrysler, the smallest US carmaker and the only to be privately owned, is considered most at risk.
A failure at any of the Detroit Three would devastate the highly integrated automotive industry, which employs one out of 10 Americans, and potentially push the fragile US economy into a depression.
European and Asian carmakers have also begged their governments for help as auto sales plunged by double digits across the globe.
The slump is so severe that the long-profitable Toyota Motor forecast its first-ever operating loss this year.
Producers in Europe, Asia and the Americas are idling factories and laying off workers as auto sales fell at the fastest rate in decades in the final months of the year, dropping as much as 37 to 50 percent in several countries.
Brazil's formerly booming market is withering, and there's even evidence of a slowdown in China which had been growing by 20 to 30 percent a year.
"There's nowhere to hide in the automotive sector globally at this point," auto analyst Gregg Lemos Stein of Standard & Poor's credit rating service told AFP.
After falling by a forecasted 2.6 million vehicles (or 3.7 percent) in 2008, global auto sales are expected to drop by another 3.5 million (or 5.1 percent) to 63.5 million vehicles in 2009, according to research firm Global Insight.
"We're not at rock bottom yet. We're still getting really bad news," said Global Insight analyst Rebecca Lindland, who warned that global auto sales will not recover until at least 2010.
"In Europe they're still in the process of tumbling down into recession. We're still seeing emerging markets slow and we don't know when they're going to stop slowing," Lindland said in a telephone interview.
The troubles at the Big Three did provide opportunities for their competitors.
Toyota was set to overtake GM as the world's largest automaker and Volkswagen knocked Ford out of the number three spot globally.
A number of iconic brands also swapped hands in 2008.
Ford sold British luxury marks Jaguar and Land Rover to India's Tata Motors and steered the Aston Martin brand back into British hands to raise much-needed cash.
Ford was also looking at putting its last foreign luxury mark, Volvo, on the block and GM said it would consider a sale of Saab.
Daimler meanwhile officially filed a request with Russian authorities to take a stake in the truck maker Kamaz, but said it was also considering building its own Russian vehicle instead.
But tight credit and worsening economic conditions scuttled a number of possible deals.
GM abandoned merger talks with Chrysler, and luxury sports car maker Porsche pushed back a planned takeover of Volkswagen.
And a growing row between Germany's Daimler and the parent company of Chrysler over the terms of finalizing their divorce spilled out into public accusations of breach of contract and bad faith negotiations in November.
Bleeding balance sheets could also undermine plans to push more fuel-efficient vehicles despite billions in loans approved by the European Union and US government.
Japanese truck maker Isuzu shelved plans to jointly develop a clean diesel engine with Toyota and Norwegian electric car maker Think was forced to lay off half its workers just two months after it launched production due to a lack of financing.
Tata also encountered problems constructing a factory for what will be the world's cheapest car as violent protests broke out in West Bengal state over the seizure of farmland to make room for the plant.
BMW, Nissan and Honda have also issued profit warnings, and Fiat delayed the introduction of its 2009 models.
South Korean auto maker Ssangyong Motor failed to pay its workers the week before Christmas after its Chinese parent refused to provide a cash injection and threatened to abandon the ailing automaker if its union rejects restructuring.