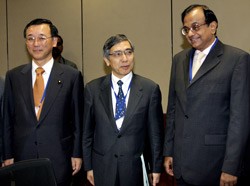 ADB President, Haruhiko Kuroda (C) with Japanese and Indian Finance Ministers (AFP Photo)
"Poverty, in all its aspects, remains our region's most daunting problem," Kuroda said at the opening of the ADB's 39th annual governor's board meeting.
"The abiding passion, vision and mission of the ADB continue to be the elimination of poverty," the Japanese banker said in the south Indian city of Hyderabad.
More than 3,000 delegates including finance ministers, business leaders and representatives from global organisations are attending the ADB's 39th annual board of governors meeting to focus on Asian development challenges.
Kuroda exhorted Asian countries to work together to sustain high economic growth and spread the advantages of growth in a region that is home to two-thirds of the world's poor.
"The face of Asia is changing. Today, hundreds of millions of people enjoy a better quality of life. The middle classes are growing and Asia's place in the world in rising," the bank president said.
"But open the lens wider, and another face appears. In this region of increasing prosperity, one in five people still cannot access safe drinking water," he added.
Kuroda said new thinking would be needed to solve the problems like rising unemployment, aging populations, rapid urbanization and the widening gap between rich and poor.
Across the city, several thousands protested the "anti-people policies" of the multilateral agency.
The People's Forum organised the rally, kept well away from the convention centre, to coincide with Friday's inaugural session for the two-day board meeting.

Source: AFP