A car bomb slammed into Pakistani offices used to interrogate suspected militants on Monday, destroying the building and killing 11 people in the latest attack to strike Lahore.
More than 60 were wounded with people trapped under rubble of collapsed buildings when a car packed with up to 600 kilograms (1,300 pounds) of explosives struck an investigations unit in Pakistan's second largest city.
There were scenes of panic as volunteers and rescue workers dug with bare hands under the collapsed two-storey building and a severely damaged Muslim seminary, searching for survivors and fearing the death toll could rise.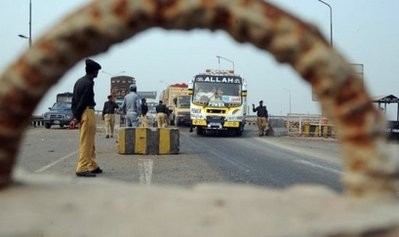 Pakistani policemen search vehicles on a link road in Lahore.
Pakistan pointed the finger at Taliban-linked militants out to destabilise the nuclear-armed country of 167 million and a wave of similar attacks has killed more than 130 people in the cosmopolitan city over the last year.
More than 3,000 people have been killed in suicide and bomb attacks across Pakistan since July 2007, a campaign blamed on Islamist militants opposed to the government's alliance with the United States in the war on Al-Qaeda.
"It was around 8:15 (0315 GMT) when I heard a deafening blast which shook my house," said Nasim-ur-Rehman who lives about 1.5 kilometres (one mile) from the scene of attack in the upmarket neighbourhood Model Town.
"When I rushed out I saw thick smoke billowing out," he added.
The blast gouged a huge crater out of the ground, crumpled roofs and littered the streets with tree branches. Bulldozers and other heavy-lifting machinery worked to clear away the mounds of rubble, witnesses said.
Flying glass wounded passers-by. A woman and her daughter were among the dead in the city of eight million, and civilians who were wounded were mostly office workers or parents returning after dropping their children at school.
"It was a police special investigation unit that was targeted. A vehicle packed with explosives hit the building. The building was used to interrogate suspected terrorists," Lahore city police chief Pervez Rathore told AFP.
Khusro Pervez, the top administration official in Lahore, said 11 people were killed and 60 wounded.
"I fear the death toll may rise. We believe there are still people trapped under the rubble," he said.
Police said 30 to 50 people were in the building, used by police and intelligence agents, at the time of attack, which blew out a crater three metres (10 feet) deep and four to six metres wide.
"The blast also severely damaged a nearby religious school and houses. All schools have been closed in the area in order to avoid further losses or to prevent the possibility of another attack," said Rathore.
Interior Minister Rehman Malik blamed "hired killers who want to destabilise Pakistan" and pointed the finger at the Tehreek-e-Taliban Pakistan (TTP) faction holed up in the northwest of the country along the border with Afghanistan.
"In almost every blast there has been TTP involvement and they themselves have also claimed responsibility for attacks," he added.
"The ammunition and weapons are coming from Afghanistan," he alleged.
Ambulances raced to the area and the city's Jinnah Hospital declared a state of emergency as casualties were rushed into wards and rescue workers used seismic sensors to search for survivors under the rubble.
Monday's bombing in Lahore follows a recent decline in Islamist militant attacks in Pakistan after a significant hike in bloodshed in late 2009.
Pakistani officials had linked the reduction to the suspected death -- still not confirmed -- of TTP leader Hakimullah Mehsud and military offensives that have disrupted militant networks.
The military claims to have made big gains against Taliban and Al-Qaeda strongholds over the past year, launching major offensives in the northwestern district of Swat and the tribal region of South Waziristan.
Washington says militants use Pakistan's semi-autonomous tribal belt to plot and stage attacks in Afghanistan, where more than 120,000 NATO and US troops are helping Afghan forces battle the Taliban militia.