SANTIAGO (AFP) – A powerful earthquake struck off the coast of Chile, throwing a scare into residents nearly a year after a massive temblor and tsunami wreaked death and destruction in the same region.
The strong quake was followed within hours by several aftershocks and two more big temblors with magnitudes of 5.9 and 6.1 in the same area, the US Geological Survey said.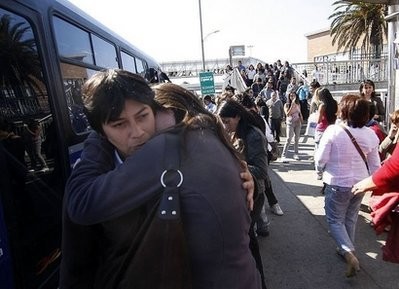 AFP - A couple hug as people evacuate buildings and gather on the streets in Concepcion, south of Santiago.
There were no initial reports of casualties or damage, but media reports said the first quake was felt in a wide area of central Chile, where some residents evacuated coastal areas as a precaution.
The US Geological Survey and Chile's National Emergency Office (ONEMI) said the quake occurred in the Pacific some 70 kilometers (45 kilometers) from the city of Concepcion.
The USGS initially reported a major 7.0 magnitude, and later revised that to 6.8, which can still cause devastation.
The quake struck at 2005 GMT near a region in central Chile that was heavily damaged by an 8.8 magnitude earthquake and tsunami on February 27, 2010.
The epicenter of the second quake, which occurred at 2339 GMT, was about 55 kilometers (34 miles) southwest of Concepcion. The USGS initially said it had a magnitude of 6.3 but later revised it to 5.9
At 0117 GMT, the USGS recorded a 6.1 magnitude quake 18 kilometers (11 miles) south of Concepcion.
After the first quake, Rodrigo Ubilla, an Interior ministry official, said there were no casualties or damage to buildings reported and praised the "exemplary" reaction of the population, saying the people showed "maturity" after last year's catastrophe.
Last year's disaster led to more than 500 deaths and $30 billion dollars in damage, and led to an inquiry over the lack of a timely tsunami warning.
ONEMI director Vicente Nunez said "people reacted with concern," because the incident occurred near the anniversary date of the tsunami, and urged people to return to their homes.
President Sebastian Pinera visited the ONEMI headquarters to review the situation. He called for calm, and said there had been "no reports of significant damage or loss of life."
"Chile has learned its lesson after the earthquake of February 27. We are better prepared, but will always require the cooperation of the public," Pinera said.
Earlier this week, he said reconstruction from the devastation last year would extend until 2014, with many schools, roads and hospitals still needing repairs.
The Pacific Tsunami Warning Center said after the 6.8 temblor that "a destructive Pacific-wide tsunami is not expected," from this quake but that earthquakes of this size "sometimes generate local tsunamis that can be destructive along coasts" within a 100 kilometers of the epicenter.
"Authorities in the region of the epicenter should be aware of this possibility and take appropriate action," it said.
Chilean seismologists said it was not usual to see aftershocks from a quake as large as the one last year, even a year later.