TOKYO, April 12, 2011 (AFP) - A powerful earthquake struck near Japan's crippled Fukushima nuclear plant on Tuesday, shaking buildings in Tokyo. No tsunami warning was issued and no damage immediately reported.
The US Geological Survey said the quake had a magnitude of 6.0 and hit less than 11 kilometres (7 miles) below ground, 70 kilometres south of Fukushima city in the prefecture of the same name.
Japanese officials had put the magnitude at 6.3.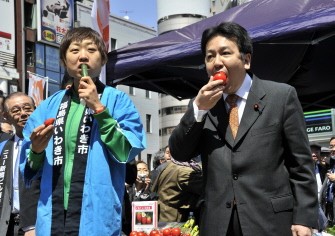 AFP - Japan's Chief Cabinet Secretary Yukio Edano (R) crams a tomato into his mouth as comedian Shizu-chan (L) crams a cucumber into hers in Tokyo at a sale of vegetables produced in the city of Iwaki in Fukushima prefecture on April 12, 2011 in support of farmers over fears of radiation hitting the food chain.
Emergency workers grappling to bring stricken reactors under control at the Fukushima Daiichi nuclear plant were ordered to evacuate, an official from operator Tokyo Electric Power said.
"We have no report of any abnormality in the external power to the Fukushima Daiichi plant. But we are inspecting the status of the water hosing and parameters in the area," he said.
A loss of power to the cooling systems at the plant following the massive tsunami caused by a huge undersea quake on March 11 left reactors heating up dangerously, sparking the world's worst nuclear crisis in 25 years.