Solemn ceremonies, seminars, film screenings and photo exhibitions have been hosted in many countries for the last few days to commemorate the late President Ho Chi Minh on the occasion of his 125th birthday anniversary, May 19 .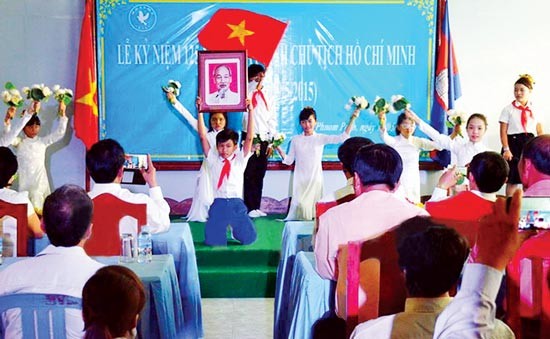 An art performance in a ceremony to mark the 125th birthday anniversary of President Ho Chi Minh in Cambodia
The Ho Chi Minh National Academy of Politics and Public Administration and President Ho Chi Minh relic site coordinated with Eastern Faculty, Saint-Petersburg State University to host a scientific seminar themed 'Ho Chi Minh Thought heritage and present age' in Russia on May 18.
At the seminar, scholars from Vietnam and Russia presented their memoirs, discussed values of Ho Chi Minh Thought and exchanged scientific methods to the great set of the late president's thoughts.
Associate professor Alexandr Rogolevsi, deputy director of Saint-Petersburg University, said that the seminar aimed to help scientists and those interesting in the Ho Chi Minh Thought system have a chance to exchange and deepen their awareness about the Thought's values and learn from it to serve their lives, protect and fortify the two countries' relationship, which has long been built and developed by President Ho and generations of Soviet Union leaders.
On the same day in Phnom Penh capital of Cambodia, the General Association of Vietnamese Cambodian People organized a solemn ceremony to mark the 125th birthday anniversary of President Ho Chi Minh.
Attending the ceremony were representatives of the Vietnamese Embassy to Cambodia and oversea Vietnamese from Phnom Penh.
Chairman of the Vietnamese Cambodian Association in Phnom Penh Huynh Minh Phu said that oversea Vietnamese in Cambodia were always proud of and grateful to President Ho. They were willing to continue learning and following Uncle Ho's moral example, promote patriotic tradition, unite, cherish, protect and help one another build a stable life in their second homeland, and keep looking after the friendship and solidarity of Vietnamese and Cambodian nations.
Previously, the Vietnamese Embassy in London held a flower offering ceremony outside the New Zealand High Commission, built on the former site of Carton Hotel where Uncle Ho used to work while tramping about abroad in seek of a way to liberate his country.

Vietnamese communities who are doing business, studying and living in Laos organized an incense offering ceremony to Uncle Ho at the president memorial site in Xieng Vang village, Noong Boc district, Kham Muon province, where he used to live and do revolutionary activities.
The Vietnamese Embassy to Cuba on May 15 worked with the Organization of Solidarity with the People of Asia, Africa and Latin America to commemorate the 125th birthday anniversary of President Ho Chi Minh.
Attendees at the event watched documentary film '79 Springs' by the late Cuban filmmaker Santiago Álvarez and images of modern Vietnam during its renovation process via the film 'Welcome to Vietnam'.
On this occasion, the embassy and organization opened an exhibition displaying large pictures and tens of books honoring President Ho Chi Minh at the Alba cultural center.
The Algeria National Liberation Front held a photo exhibition comprising over 100 color and black and white photos about President Ho Chi Minh and Vietnam-Algeria traditional relation at the front's headquarters in Algiers capital city. The event attracted a crowd of officials, guests and Algerian people.
In Ukraine, the Vietnam-Ukraine Friendship Association coordinated with the Vietnamese Embassy to Ukraine kicked off an exhibition with 100 photos recording important landmarks in the revolutionary cause of Uncle Ho.
They include images of his visits to Ukraine in the phase 1957-1965 when he visited Odessa port city, factories and farms, and met with various classes of Ukrainian from leaders to engineers, workers, women and children in some cities of the country.