MANILA, Nov 25, 2009 (AFP) - Philippine President Gloria Arroyo on Wednesday vowed justice would be served after an election-linked massacre that claimed at least 46 lives was blamed on a political ally.
"The president is really very angry about this incident," presidential spokesman Cerge Remonde said on the ABS CBN television network.
"The president is very clear that those people responsible, regardless of who they are, should be brought before the bar of justice."
Police earlier said the top suspect in Monday's killings was Andal Ampatuan Jnr, a member of Arroyo's ruling coalition and the son of a powerful regional politician who has helped secure votes for the president in previous elections.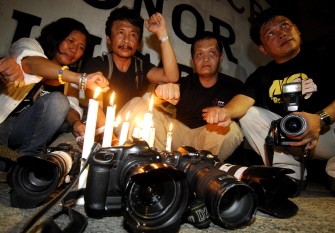 Photojournalists light candles during a indignation rally in Quezon City, suburban of Manila on November 24, 2009, denouncing in strongest possible terms the massacre (AFP photo)