NALUT, Libya (AFP) – Pressure mounted Monday on Libyan leader Moamer Kadhafi as anti-regime forces overran towns in his traditional western stronghold, after world leaders called on him to end his 41-year rule.
As top international diplomats gathered in Geneva for a meeting over the crisis, there were increasing signs the Libyan strongman's grip on power was slipping even further.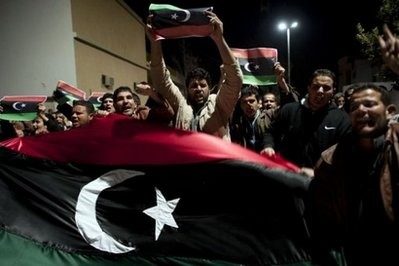 AFP - People hold former Libyan monarchist flags during a demonstration in the streets of Nalut, in western Libya
Protest leaders on Sunday established a transitional "national council" in several eastern and western cities seized from the Kadhafi regime and called on the army to help them take the capital Tripoli.
The United States said it was prepared to offer "any kind of assistance" to Libyans seeking to overthrow Kadhafi as his opponents piece together a transitional body comprising representatives from the liberated cities.
The unrest in the oil-rich North African state has set off a "humanitarian emergency", the UN refugee agency UNHCR said, as almost 100,000 migrant workers fled Libya in a mass exodus.
US Secretary of State Hillary Clinton echoed the calls of world leaders, including President Barack Obama and British Prime Minister David Cameron, for him to quit.
"We are just at the beginning of what will follow Kadhafi," she said.
"First we have to see the end of his regime and with no further bloodshed," she said, noting Washington was eager for his ouster "as soon as possible."
"We want him to leave."
At the weekend, the UN Security Council imposed a travel and assets ban on Kadhafi's regime and ordered a probe into possible crimes against humanity after at least 1,000 people were killed in a crackdown by his forces.
London said it had frozen Kadhafi family assets in Britain, amid newspaper reports these amount to about 20 billion pounds (32 billion dollars, 23 billion euros) in liquid assets, mostly in London.
Australia is investigating claims Kadhafi's family has stashed millions of dollars in assets down under, Foreign Minister Kevin Rudd said Monday. Canberra has launched a forensic probe to track down any assets the crumbling regime may have secretly built up in Australia.
A community organiser, Abdel Hafiz Ghoqa, told reporters in Benghazi on Sunday that a transitional "national council" had been set up in cities seized from the regime.
"The creation of a national council has been announced in all freed cities of Libya," he said.
The council is the "face of Libya in the transitional period," he said, adding consultations were under way on the body's composition and duties.
On Saturday, former justice minister Mustafa Abdel Jalil, who quit Kadhafi's regime on February 21, said a transitional government would lead Libya for three months, before an election.
In neighbouring Egypt, visiting US senators John McCain and Joe Lieberman urged Washington to recognise a transitional government in Libya and provide it with weapons and humanitarian assistance to oust Kadhafi.
On Sunday, the strongman dismissed the UN sanctions as invalid and said calm had returned to Libya as the territories held by the opposition were "surrounded."
In his telephone statement to Serbian television, he said: "Libya is completely quiet. There is nothing unusual. There is no unrest."
Of the territory held by the opposition, Kadhafi said: "There is a small group (of opponents) that is surrounded, but we will sort that out."
But his crumbling regime now controls only some western areas around the capital and a few long-time bastions in the arid south, reporters and witnesses say.
An AFP reporter arriving in Nalut, a town of 66,000 people, 235 kilometres (145 miles) west of Tripoli, found Kadhafi loyalists had entirely disappeared.
"The city has been liberated since February 19. It has been run by a revolutionary committee named by the town's communities," Shaban Abu Sitta, a local lawyer and member of a revolutionary committee, told AFP.
"The towns of Rhibat, Kabaw, Jado, Rogban, Zentan, Yefren, Kekla, Gherien and Hawamed have also been free for days. In all these towns, Kadhafi's forces have gone and a revolutionary committee put in place," he said.