SENDAI, Japan, March 31, 2011 (AFP) - Japan said Thursday there were no immediate plans to widen the exclusion zone around its stricken nuclear plant, hours after the UN atomic watchdog agency voiced its concern over the issue.
In Washington, the Pentagon ordered a Marine emergency nuclear response unit to deploy to Japan as a precautionary move and to stand ready to assist in Japan's response to the crisis at the tsunami-hit Fukushima nuclear plant.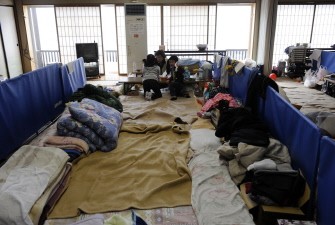 This picture taken on March 28, 2011 shows Tomokoi Sato, 55, (C) chatting with children of other families who were evacuated from Fukushima at her makeshift shelter in Yokote city, Akita prefecture.
Some 155 Marines from the Chemical Biological Incident Response Force were due to arrive Friday, although there were no plans for them to take part in the emergency work to stabilise Fukushima, US defence officials told AFP.
Iodine-131 in the sea near the plant has risen to a new high of 4,385 times the legal level, the power station operator TEPCO said.
Pressure grew meanwhile on Japan to expand the 20-kilometre (12 mile) exclusion zone around its stricken nuclear reactor after the UN atomic watchdog said radiation in one village 40 kilometres away had reached evacuation level.
In its first such call, the International Atomic Energy Agency added its voice to that of Greenpeace, which has warned for several days that people, especially children and pregnant women, should leave Iitate.
"The first assessment indicates that one of the IAEA operational criteria for evacuation is exceeded in Iitate village," the agency's head of nuclear safety and security, Denis Flory, told reporters in Vienna.
He said the IAEA -- which has no mandate to order nations to act -- had advised Japan to "carefully assess the situation, and they have indicated that it is already under assessment."
The reading in Iitate was two megabecquerels per square metre -- a "ratio about two times higher than levels" at which the IAEA recommends evacuations, said the head of its Incident and Emergency Centre, Elena Buglova.
Japan's top government spokesman Yukio Edano, asked whether further evacuations were needed now, told a press conference: "I don't think that this is something of a nature which immediately requires such action.
"But, the fact that the level of radiation is high in the soil is inevitably pointing to the possibility that the accumulation over the long term may affect human health.
"Therefore, we will continue monitoring the level of radiation with heightened vigilance and we intend to take action if necessary."
Japan cleared tens thousands out of the 20-kilometre exclusion zone around the plant after a giant earthquake and tsunami almost three weeks ago damaged the plant, triggering the world's worst nuclear disaster since Chernobyl in 1986.
Thousands more in the 20 to 30 kilometre radius of the plant were initially told to stay indoors and later encouraged to move away.
The United States has advised its citizens to leave an area within a 50-mile (80 kilometre) radius and ordered its military personnel to stay clear of the same zone -- a limit that also applies to the Marines being sent, officials said.
Elevated radiation levels have been detected in the air and seawater near the nuclear plant, and in regional farm produce and Tokyo drinking water.
The anti-nuclear environmental campaign group Greenpeace has set up its own monitoring equipment in Iitate village.
Its radiation safety director Jan van der Putte this week told AFP that "what we're now measuring is a bit of a smoking gun of the radioactivity of the cloud that went over that region more than a week ago.
"And still the radioactivity levels that we can measure today are very significant, to an extent that in some areas (it's) unsafe to stay there for a longer time."
At the plant itself, workers pushed on with the high-stakes battle to stabilise reactors, into which water has been poured to submerge and cool fuel rods that are assumed to have partially melted down.
They are also struggling to safely dispose of thousands of tons of highly contaminated run-off water.
Japan has considered a range of high-tech options -- including covering explosion-charred reactor buildings with fabric, and bringing in robots to clear the irradiated rubble.
A US military barge carrying more fresh water to be pumped into the reactors was expected to arrive near the plant Thursday, the Yomiuri daily said.
Workers also plan to spray an industrial resin at the plant to trap settled radioactive particles, although plans to start Thursday were delayed because of weather conditions, public broadcaster NHK said.