SYDNEY, Jan 20, 2010 (AFP) - Britain's visiting Prince William said Wednesday he was so thrilled by his warm welcome to Sydney that he'd like to buy a house in the Australian harbourside city.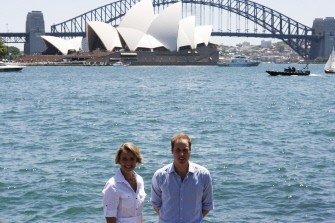 Britain's Prince William (R) poses for photos with New South Wales premier Kristina Keneally before the Sydney opera house on January 20, 2010 (AFP photo)

William, 27, told guests at a traditional Australian waterfront barbecue in his honour that he had enjoyed "the most warm welcome ever, not just with the weather but with all Sydney people."
"It has been a terrific couple of days in Sydney, and because of that I've joked that I will actually try and buy a house in Sydney," the prince said.
"So if any of you have got any properties for sale then please let me know."
The prince was mobbed by hundreds of well-wishers when he arrived at the gathering, which offered him stunning views of the city's famed Opera House and Harbour Bridge on the second day of a three-day whistlestop tour of Australia.
Dressed casually in an open-collared shirt and loafers, the prince enthused about his surroundings, gesturing across glittering waters to the Opera House, which sat against a cloudless blue sky.
"What a view it is too, I've always wanted to see the Opera House," said William, in his first public remarks since landing in Australia on Tuesday.
"The last time I was here and I saw it, it was through very small eyes and I don't quite remember very much about it."
The open-air barbecue topped off a two-day stay in Sydney for the young prince, who last visited Australia in the arms of his late mother, Princess Diana, when he was just nine months old in 1983.
William requested the unofficial trip as a way to get to know the country and its people, taking in a poor inner-city Aboriginal neighbourhood and rehab centre for drug addicted youth as part of his less-than-conventional itinerary.
His laid-back manner and ready humour won the praise of press and punters alike, with many likening him to his much-beloved late mother.
Some in the crowds which gathered across the city to see the prince greeted him with the affectionate nickname "Willie Wombat," which was bestowed upon him during his last visit as an infant.
The prince took a self-deprecating dig at his musical tastes after a rap jam performance by hip-hop artists at a youth dug rehab centre, saying his choice of music often made him the butt of jokes.
"I can't do any beatboxing, I'm not so good at that," he told Prime Minister Kevin Rudd, referring to the vocal percussion stylings of the hip-hop trio before them.
"I normally get the piss taken out of me for my choice of music," he joked.
"Mine's very varied -- I like rock, Linkin Park... Kanye West."
His marksmanship impressed soldiers at a major army base on the city's outskirts, winning approval with his willingness to get down on his belly for a live firing exercise with elite snipers returned from Iraq and Afghanistan.
"I understand he has been in the Air Force," said Private Jace Barnett of William, who graduated as a fully-fledged Royal Air Force helicopter pilot just before his trip to Australia.
"It would be a bit embarrassing if we let a Rafie beat us," Barnett joked to state radio, admitting there had been some good-natured rivalry with the prince on the rifle range.
Second in line to the British throne, William was welcomed to Australia Tuesday with a traditional Aboriginal "smoking ceremony" in the poor inner-city neighbourhood of Redfern, which was presided over by an elder daubed in body paint and bearing smouldering gum leaves.
He met with Aboriginal elders to discuss, among other things, the repatriation of indigenous artefacts and remains, including the head of indigenous warrior Pemulwuy.
William reportedly slipped out for a seafood platter and a few beers at exclusive Sydney nightspot Bungalow 8 on Tuesday night.
He will visit bushfire-ravaged areas near Melbourne on Thursday before returning home the following day. His Australia tour follows an official visit to New Zealand, where he represented his grandmother Queen Elizabeth II for the first time.