TEHRAN, Oct 9, 2009 (AFP) - The Nobel Peace Prize awarded to US President Barack Obama Friday should prompt him to start working towards ending injustice in the world, an aide to Iranian President Mahmoud Ahmadinejad told AFP.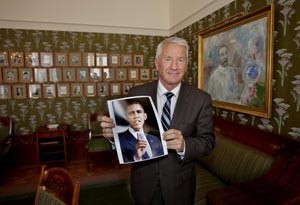 The chairman of the Norwegian Nobel Peace Prize Committee, Thorbjoen Jagland, shows a picture of 2009 Nobel peace prize laureate, Barack Obama, in Oslo 9 October 2009. (AFP photo)
"We hope that this gives him the incentive to walk in the path of bringing justice to the world order," said Ali Akabr Javanfekr, Ahmadinejad's media aide.
"We are not upset and we hope that by receiving this prize he will start taking practical steps to remove injustice in the world."