ABIDJAN, April 10, 2011 (AFP) - The government of Ivory Coast strongman Laurent Gbagbo denied carrying out an attack Saturday on a hotel in Abidjan where his rival, UN-recognised president Alassane Ouattara, is headquartered.
A UN spokesman and witnesses told AFP earlier the Golf Hotel in Abidjan, where Ouattara has been holed up since disputed November elections, came under attack in a major escalation of the battle for control of the country.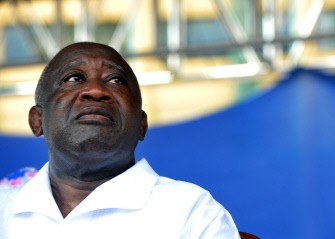 AFP- This file picture taken on November 26, 2010 shows Ivory Coast's President and incumbent Laurent Gbagbo at a campaign meeting in Abidjan.
It was the first time since the start of the west African nation's political crisis that the hotel had come under direct attack.
"The FDS (pro-Gbagbo Defence and Security Forces) are attacking us and we are trying to push them back," one fighter with the pro-Ouattara forces said.
"The firing is very, very close. Snipers fired bursts from Kalashnikovs. The pro-Gbagbos are attacking us on all fronts," a hotel resident said.
But Gbagbo spokesman Ahoua Don Mello told AFP: "It's absolutely false. There has been no attack on the Golf (hotel). It's an imaginary attack."
A spokesman for the UN mission in Ivory Coast (UNOCI), Hamadoun Toure, said UN peacekeepers had responded after the hotel had come under mortar fire from Gbagbo's forces.
"The Golf Hotel was attacked with mortars," Toure said, adding that the attack had come from south of Abidjan's lagoon and the presidential residence.
"In conformity with our mandate to protect the Golf Hotel where president Ouattara and his team are, the peacekeepers responded by targeting the origin of the firing coming from the other side of the lagoon. We intentionally avoided the residence of president Gbagbo."
Mello said the UN's accusations proved that it was siding with Ouattara and was, alongside French forces from Operation Unicorn (Licorne), "certainly preparing another attack" on Gbagbo's positions.
He said Gbagbo called Saturday for resistance against France.
"President Gbagbo calls for resistance against the bombings and actions of the French army in Ivory Coast, because definitively it's the French army that is attacking us," Mello declared.
He added: "Our troops are regrouping after undergoing a barbaric attack by the rebels supported by the UN and Licorne".
The United States condemned renewed violence by Gbagbo's forces, calling his attempt to negotiate "a ruse to regroup and rearm."
"It is clear that Gbagbo's attempts at negotiation this week were nothing more than a ruse to regroup and rearm," State Department spokesman Mark Toner said in a statement.
"Gbagbo's continued attempt to force a result that he could not obtain at the ballot box reveals his callous disregard for the welfare of the Ivorian people, who will again suffer amid renewed heavy fighting in Abidjan," Toner said.
The attack broke the calm of what had been a relatively quiet day in Abidjan, where Ouattara's forces have blockaded Gbagbo inside the presidential residence.
The United Nations warned on Friday that Gbagbo's forces had gained ground in the commercial capital under cover of a lull in fighting.
UN peacekeeping chief Alain Le Roy said that troops fighting for Gbagbo still had tanks and other heavy weapons and had made advances in the city.
Clashes with Gbagbo's troops had also forced French soldiers to abort an evacuation of diplomatic personnel from Abidjan Saturday.
The evacuation began at around 3:00 am (0300 GMT) but the head of the country's mission decided to cancel the operation because of security concerns, Colonel Thierry Burkhard of the French forces in Ivory Coast told AFP.
French forces drew fire during the operation and French helicopters destroyed an armoured vehicle of pro-Gbagbo forces in Abidjan's diplomatic quarter, Burkhard said.
A UN aid official said many areas of Abidjan were still in desperate need of aid and called for humanitarian corridors to be set up to deliver help.
"The situation is tragic in certain neighbourhoods" of Abidjan, Carlos Geha, the representative of the UN's Office for the Coordination of Humanitarian Affairs (OCHA) in Ivory Coast, told AFP.
"It is not medicine or material aid that is missing but the means to get them to those who need them," he said.
Meanwhile, Ouattara was under increasing pressure over allegations that his forces had committed atrocities in the west of the country as they advanced on Abidjan late last month.
Human Rights Watch said they had killed or raped hundreds of people and burned villages, citing new evidence of summary killings of Gbagbo supporters in the far west.
Last week Ouattara's forces swept in to Abidjan ending a stand-off that has lasted since the November presidential election in which Gbagbo refused to concede defeat.
But they have been unable to get him out of a bunker underneath his residence in the city.
The UN Children's Fund (UNICEF) and World Health Organisation have warned of the threat of mass outbreaks of disease, including a resurgence of a deadly cholera outbreak in Abidjan.
Also Saturday, commercial flights resumed from the airport in Abidjan and an Air France flight arrived, a source with French military forces in the country told AFP.
And UN and French forces were deployed in Abidjan's port, a day after the European Union lifted its sanctions on the port and the authority that oversees Ivory Coast's vital cocoa industry.