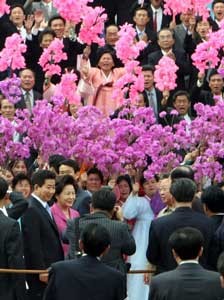 RoK's President Roh Moo-Hyun (L) and his wife Kwon Yang-Suk (2nd-L) meet with DPRK's Leader Kim Jong-Il (2nd-R-partly seen) during a welcoming ceremony in Pyongyang, Oct. 02, 2007.
The idea for an international summit to formally declare an end to the Korean War came from the Democratic People's Republic of Korea's leader Kim Jong-Il, a Republic of Korea's minister said Friday.
The call for such a meeting was the most eye-catching achievement of the summit between the South's President Roh Moo-Hyun and Kim in Pyongyang. But questions arose Friday about what they had actually agreed.
"This proposal came from DPRK," Unification Minister Lee Jae-Joung told a parliamentary committee while briefing it about the outcome of this week's inter-Korean summit.
The 1950-53 war ended in an armistice signed by the United States, on behalf of United Nations forces defending the South, as well as DPRK and its ally China.
RoK did not sign. The two neighbours "recognise the need to end the current armistice regime and build a permanent peace regime," according to Seoul's official translation of the summit declaration.
"The South and the North have also agreed to work together to advance the matter of having the leaders of the three or four parties directly concerned to convene on the peninsula and declare an end to the war."
Lee Hae-Bong, of the conservative opposition Grand National Party, attacked minister Lee for "agreeing to DPRK's proposal, despite not knowing which countries DPRK is referring to."
Lee Jae-Joung, whose ministry oversees inter-Korean affairs, was not specific about which countries the declaration refers to.
"It depends on the situation, but that means the South and the North should take the initiative in discussing this issue while other concerned countries can participate in it," Yonhap news agency quoted him as saying.
Presidential spokesman Cheon Ho-Seon said the two Koreas and the US are the basic members of any formal peace talks with the inclusion of China remaining an option.
The two Korean leaders "clearly demonstrated their will to play the leading role in the conclusion of a Korean peninsula peace treaty," Cheon said.
DPRK had argued in the past that because Seoul did not sign the armistice it should be excluded from any talks on a peace pact.