Voters in Ukraine forced two old rivals who both favour close ties with Russia into a tense presidential election run-off Monday after rejecting the pro-Western leader of the 2004 Orange Revolution.
Almost final results showed dour pro-Moscow candidate Viktor Yanukovich had won Sunday's first round of voting, in a stunning turnaround for the politician blamed for organising poll rigging in 2004 that sparked the Orange uprising.
But having failed to muster a majority, Yanukovich will face the second place candidate, the glamorous Prime Minister Yulia Tymoshenko, in a run-off on February 7.
In a stinging rebuke for the pro-West revolt just over five years ago, its leader, incumbent President Viktor Yushchenko, was eliminated in the first round with a miserable single digit result.
With ballots from about 95 percent of polling stations counted, Yanukovich had garnered 35 percent of the vote and Tymoshenko 25 percent, the central election commission said.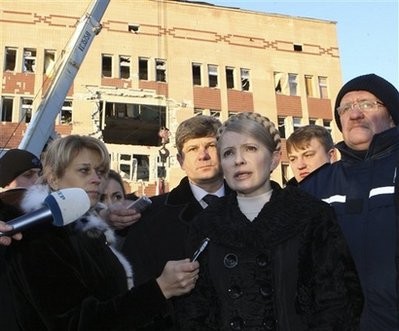 Ukraine's Prime Minister and the Presidential candidate Yulia Tymoshenko, centre, speaks to the media at a destroyed hospital building in Luhansk, Ukraine, Monday, Jan. 18, 2010.
Third place went to businessman Sergiy Tigipko, who polled 13 percent. His electorate will now prove crucial in determining the fate of the second round.
Yushchenko meanwhile languished on five percent, in fifth place behind youthful former parliament speaker Aresniy Yatseniuk, who took fourth with seven percent.
While Tymoshenko must make up a serious deficit in the run-off, analysts have said the image-conscious prime minister could reel in the difference if she mobilises anti-Yanukovich voters.
The polls promise to be a gloves-off affair and analysts have warned of a high risk that the result will be taken to the courts, perhaps even sparking fresh street protests.
"It's going to end up pretty close," said Andrew Wilson, a Ukraine expert with the European Council on Foreign Relations.
"It could end up in the courts or on the streets. Both candidates are hinting strongly at that."
But international observers from groups including the Organisation for Security and Cooperation in Europe (OSCE) said the first-round election was of high quality and met its democratic commitments.
Whoever wins, the new president is likely to reverse Yushchenko's anti-Moscow line.
Tymoshenko, famed for her peasant-style blond hair braid, was a leader of the Orange Revolution along with Yushchenko, but has since played up her close ties to Russian strongman Prime Minister Vladimir Putin.
While Yanukovich has long been seen as a Kremlin favourite, he has sought to reinvent himself with the help of Western public relations strategists and to present himself as a defender of Ukrainian interests.
"Yanukovich never distanced himself from the fraud of 2004," said Nico Lange of the Konrad Adenauer Foundation in Kiev. "But my impression is that the Yanukovich of 2010 is different to the Yanukovich of 2004."
The 2004 Orange Revolution swept Yushchenko to power in a re-run of the rigged poll and raised hopes of a new era free of Kremlin influence for the country of 46 million that would set a precedent for other ex-Soviet states.
Russia gains as Ukraine awakes from Orange dream
Though Ukraine now boasts improved freedom of speech, steps to implement reform and end corruption were forgotten as government became paralysed in a bitter power struggle between Yushchenko and Tymoshenko.
As in previous votes, Sunday's election showed Ukraine to be a divided nation with the industrial and largely Russian-speaking east of the country backing Yanukovich and the Ukrainian-speaking west going for Tymoshenko.
Yanukovich polled a crushing 76 percent of the vote in his eastern regional stronghold of Donetsk but could manage a mere six percent in the Lviv region close to the Polish border, the results showed.
The candidates' shady pasts were once again dredged up in the bitter election campaign.
Yanukovich was jailed twice in the Soviet era for theft and assault, though the convictions were erased in the late 1970s. Tymoshenko herself was briefly detained in 2001 on smuggling charges that were later quashed.