The lead prosecutor in the human rights abuse trial of Alberto Fujimori complained that Peru's ex-president is enjoying excessive privileges beyond those granted to other prisoners.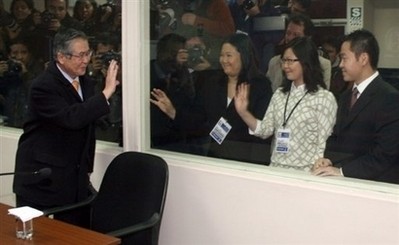 Former Peruvian president Alberto Fujimori (L) waves to his family at a hearing in Lima. The lead prosecutor in the human rights abuse trial of Fujimori complained he is enjoying excessive privileges beyond those granted to other prisoners(AFP/File/Francisco Medina Tagle)
The complaint came after a congressman with President Alan Garcia's ruling APRA party was elected head of congress with support from Fujimori supporters, led by the ex-president's popular daughter Keiko, 33.
Without those votes APRA -- and Garcia -- would have lost control of Congress.
Opposition figures say that better treatment for Fujimori was part of the deal reached between the APRA and the Fujimoristas.
The outrage has simmered throughout the week following a visit to Fujimori -- who is being held at a police base for the duration of the trial -- by two members of Los Iracundos, a Uruguayan music group popular in the 1970s.
The singers dropped by without guitars on Sunday but sang some of their old hits with Fujimori as he celebrated his 70th birthday.
"We went to give our psychological support to the ex-president, who is going through a bad moment," Gianni Pivetta, a member of the group, told reporters.
Prosecutor Jose Pelaez said it was "astonishing" that Fujimori could have "jail privileges different to those of the other inmates in his category.
"Dignity yes, but privileges, no," Pelaez said.
Keiko Fujimori denied any deal with the Garcia administration.
"The changes were obtained because my father had cancer," she told RPP radio, referring to two operations on the ex-president's tongue to remove cancerous sores.
Miguel Jugo with the Pro-Human Rights Association did not buy that explanation. "The privileges are part of an APRA-Fujimorista agreement," fumed Jugo.
With the changes Fujimori can now receive visits from close friends as well as relatives on Tuesdays, Thursdays and Sundays, authorities said.
Judge Cesar San Martin, who is presiding over the Fujimori trial, said Friday that the conditions of Fujimori's detention are out of his jurisdiction.
Fujimori governed Peru from 1990 to 2000, and is facing up to 30 years in prison on charges he ordered two massacres in the early 1990s that killed 25 people total.
Fujimori has denied waging a "dirty war" against insurgents during his rule and heading an army hit squad known as the Colina Group, which is blamed for the two massacres in his trial.
The son of Japanese immigrants, Fujimori fled to Japan after his ouster in 2000, and was extradited in September from Chile to Peru.