YOKOHAMA, Japan, Nov 14, 2010 (AFP) - Hundreds of Japanese conservatives vented their rage against China in a street rally on Sunday near the venue of a Pacific Rim summit attended by President Hu Jintao.
It was the second day of protests outside the tightly guarded venue in the Japanese port city of Yokohama, after more than 1,000 anti-Chinese protesters rallied on Saturday. Some 21,000 police have been deployed to guard the summit.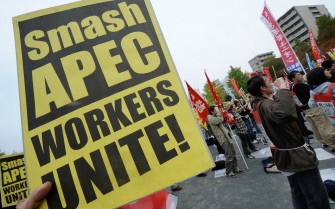 Members of Japanese labour unions shout slogans during a rally denouncing the Asia-Pacific Economic Cooperation (APEC) in Yokohama on November 14, 2010. AFP
On Sunday the protesters' targets included China's muscular diplomatic approach in Asia and its treatment of jailed dissident Liu Xiaobo, the winner of this year's Nobel Peace Prize.
"A clash with China cannot be avoided!" one speaker told the cheering crowd of about 600 people.
"We will fight all the way!," said another.
Activists at the two-hour rally also criticised Japanese Prime Minister Naoto Kan for what they said was an array of diplomatic failures.
Kan has been targeted by both right- and left-wing groups over diplomatic headaches including the future of a controversial US airbase and territorial disputes with both China and Russia.
Hu and Kan met Saturday on the sidelines of the Asia Pacific Economic Cooperation (APEC) summit, in their first talks since a feud broke out over Japan's arrest of a Chinese trawler captain in disputed waters two months ago.
Japan released the captain after Beijing cut political, economic and cultural exchanges, but the dispute fuelled nationalist sentiment and street protests in both countries.