Somchai Wongsawat, brother-in-law of ousted premier Thaksin Shinawatra, officially became Thailand's new prime minister Thursday after the king endorsed his election by parliament.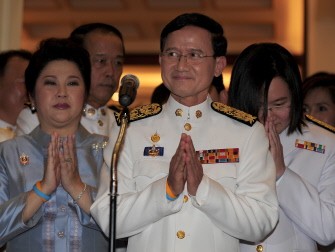 Thailand's new Prime Minister Somchai Wongsawat (L) gives a traditional greets to his members party after receiving the royal command as new primier at his resident in Bangkok on September 18, 2008. (AFP Photo)
Somchai, dressed in formal whites, received King Bhumibol Adulyadej's order in a brief ceremony at his home which was broadcast live on television.
He prostrated himself in front of a portrait of the king and gave a five-minute speech expressing his loyalty to the monarch and calling for national unity amid global financial woes and anti-government street protests.
"We should compromise, forgive and have mercy for each other. We are facing other problems: people's lives are difficult because of economic problems and we are getting less foreign investment amid the failure of international companies," Somchai said.
Protesters have occupied the prime minister's office for three weeks in a bid to topple the elected government.
Somchai's predecessor Samak Sundaravej was removed from the post last week when a court found he was illegally paid for hosting TV cooking shows.
Somchai was voted in as premier by parliament Wednesday. He came to power almost exactly two years after Thaksin was toppled by the military following months of rallies by the same activists, known as the People's Alliance for Democracy (PAD).
The PAD quickly vowed to press ahead with their campaign to force Somchai and his entire People Power Party (PPP) out of government, with the ultimate goal of curtailing democracy in Thailand.
Somchai was a respected career bureaucrat and former judge before entering public life. His wife Yaowapa was banned from politics following the coup against Thaksin.
He was made a deputy PPP leader after winning a parliamentary seat, along with his daughter, in elections last December.
The PPP leadership tried to return Samak to office in a parliamentary vote last week, but critics in the party boycotted the session.