CARACAS, April 2, 2010 (AFP) - Russian Prime Minister Vladimir Putin is to meet the presidents of Venezuela and Bolivia in Caracas Friday to sign military and energy deals that broaden Russia's footprint in Latin America.
Putin's first visit to Venezuela underscores Russia's deepening relations with Latin America's leading leftist regime, and serves as a gateway to a region long considered as Washington's backyard.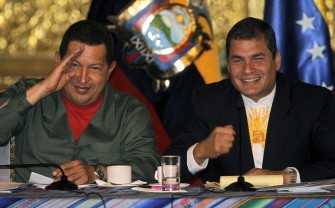 Venezuelan President Hugo Chavez (L) and his Ecuadorean counterpart Rafael Correa offer a press conference at the Carondelet presidential palace in Quito on March 26, 2010. AFP photo
Russia and Venezuela signed 12 military agreements in 2005 and 2007 worth some 4.4 billion dollars that have raised some concern among US policymakers.
Venezuelan President Hugo Chavez said late Thursday that it was "a very important day for the country and for Latin America... We are building a new, multipolar world."
Last week the firebrand leader, in announcing Putin's visit, thanked Russia for helping Venezuela "bolster its defensive potential" in the face of "threats" from the United States.
Bolivian President Evo Morales is expected to seek a 100-million-dollar loan from Russia to purchase military hardware, including an Antonov aircraft for the president's use, officials in La Paz said.
Russian officials, including Deputy Prime Minister Igor Sechin, arrived in Caracas Wednesday to prepare for Putin's visit.
Putin and Chavez will sign "accords taking us to the next phase of cooperation with Russia, which no longer will be limited to energy and military matters, but now also includes social, cultural and health issues," Vice President Elias Jaua said Thursday on state-run VTV television.
Topping the list is an agreement to set up a Russian-Venezuelan development bank to finance a joint venture for oil and gas exploration in eastern Venezuela's oil-rich Orinoco river basin.
The enterprise -- 60 percent owned by Venezuela, 40 percent by a consortium of Russian companies -- hopes to extract up to 450,000 barrels of oil per day from the Amazon region.
Putin and Chavez will also sign cooperation deals in agriculture, transportation, and the prevention of natural catastrophes, according to the meeting agenda.
Links between the two nations have grown in recent years, with Russian President Dmitry Medvedev visiting Venezuela in late 2008 during joint naval exercises. Chavez visited Moscow in September last year, while Morales traveled to the Russian capital in mid-February.
Venezuelan Foreign Minister Nicolas Maduro on Thursday said Russian-Venezuelan cooperation was based on "mutual trust in matters of security and defense... that has allowed us to upgrade all technology and equipment in our armed forces."
Morales and Putin, meanwhile, are expected to discuss their own joint venture for gas and oil exploration in Bolivia, which has the second largest natural gas reserves in Latin America.
While in Moscow in February, Morales and Medvedev signed a memorandum on energy cooperation to develop a gas pipeline network in the land-locked South American nation.
Medvedev at the time also told Morales he hoped Russia would soon deliver a batch of military helicopters, its first defense hardware for the Andean republic.
The head of Russia's military cooperation service, Mikhail Dmitriyev, said that Moscow was ready to grant Bolivia a loan for buying Russian military hardware. That loan, is expected to be confirmed during Friday's summit.