Russia's strongman Prime Minister Vladimir Putin said Thursday he would consider running for president again in 2012, putting him on a potential collision course with incumbent Dmitry Medvedev.
"I will think about it. There is plenty of time," Putin said in televised remarks when asked whether he would seek to return to the Kremlin when Medvedev's first term expires.
But just hours later Medvedev, Putin's handpicked successor in 2008, said during a visit to Italy that he might run for a second term.
"If Putin is not ruling it out, neither am I," Medvedev told a press conference in Rome.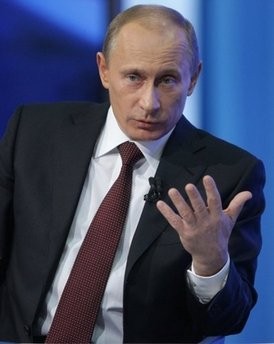 Russia Prime Minister Vladimir Putin
There has been intense speculation that Putin, who is still widely seen as Russia's most powerful politician, might be planning a return to the presidency.
Putin stepped down as president in 2008, barred by Russia's constitution from running for a third consecutive term, but nothing prevents him from running in 2012 and he has never ruled out the possibility.
"We have known each other many, many years," Putin said, referring to Medvedev, during a live phone-in show where he took questions from ordinary Russians.
"Both of us graduated from the same university, learned from one and the same professors, who instilled in us not only knowledge but (the same) approach to life."
Putin also stressed it was too early to talk of 2012: "Right now it is only 2009. I think the biggest mistake would be to take efforts going on right now and make them subordinate to the interests of a future election campaign."
Medvedev for his part indicated that the two men would continue working in close cooperation.
"We are close to each other and work well together," he said in Rome. "We can come to an agreement. We will take a reasonable decision."
Of the two men, it was Putin who commanded the attention of Russians on Thursday as he answered 80 questions during a marathon four-hour, phone-in show, a tradition he has continued from his presidency.
Putin urged "very tough" measures against terrorism, as he sought to assure Russians shocked by a weekend train bombing that killed 26 people and injured around 100 more along one of the country's busiest railroads.
"It is necessary to act in a very tough way against criminals who carry out these kinds of terrorist attacks," he said.
"We need all of society -- every one of us -- to be aware of this threat which has been with us all these years," said Putin, who earned a reputation for toughness by cracking down on Chechen rebels during his rise to power a decade ago.
Most questions in Putin's phone-in focused on bread-and-butter economic issues such as pensions, unemployment and even the low salaries of kindergarten teachers.
In one of the few forays into foreign policy on the show, Putin lashed out at the United States for "hindering" Russia's long-running bid to join the World Trade Organization.
The back-and-forth between Putin and Medvedev reflected growing competition within their tandem, said political analyst Alexander Konovalov, president of the Centre for Strategic Assessments, a think tank in Moscow.
"Medvedev is more and more coming out of Putin's shadow, competition between the two men can be felt more and more," Konovalov said.
"It's clear now that if they both run, it is Putin who will win because he is more entrenched, with more financial and economic resources."
State television said over two million questions had been sent to Putin by telephone, SMS and email for Thursday's phone-in, the eighth such show he has conducted and the second since he became prime minister last year.
Some questions were also asked by video link from people in various parts of Russia, including hardhat-wearing workers who addressed Putin from factory floors.