CARACAS, April 2, 2010 (AFP) - Russian Prime Minister Vladimir Putin on Friday offered to help develop Venezuela's space industry on his first visit there, as the two countries deepened military, energy and financial ties.
"Venezuela has already entered the satellite, space race. Russia's experience is gigantic in this regard," said Venezuelan President Hugo Chavez during a joint press conference with Putin.
"We could even install a satellite launcher here and a factory. We are already doing so with China, but Russia is offering to support Venezuela build its own (space) industry," Chavez said.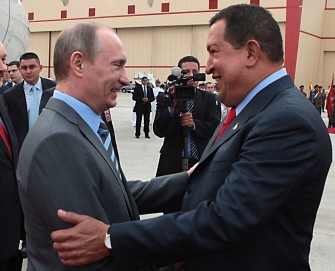 Venezuelan President Hugo Chavez (R) welcomes Russian Prime Minister Vladimir Putin upon his arrival at Simon Bolivar International airport in Caracas April 2, 2010. AFP photo
Putin was received with military honors Friday at Caracas international airport by Chavez, a leftist firebrand who has signed a dozen military agreements with Moscow since 2005 worth some 4.4 billion dollars.
"This is a truly important day for the country and for Latin America," Chavez said late Thursday in a televised address.
"It is a visit of great importance. We are forging, like steel, a new multipolar world."
Last week, in announcing Putin's first visit to Latin America's biggest oil producer, Chavez thanked Russia for helping Venezuela "bolster its defensive potential" in the face of "threats" from the United States.
Bolivian President Evo Morales also arrived in Caracas late Friday and was expected to seek a 100-million-dollar loan from Russia to purchase military and other hardware, officials in La Paz said.
They would include an Antonov aircraft for the president's use.
Venezuela also recently won a two-billion-dollar credit from Russia to buy T72 armored vehicles and anti-aircraft systems, raising concerns in Washington, which has called for transparency.
To underscore the military cooperation between the two friendly nations, a huge Russian Antonov 124 cargo plane landed in Caracas on Friday delivering four Russian Mi-17 helicopters to the Defense Minister, General Carlos Mata.
"We're very happy to receive this new batch of helicopters," Chavez said of the delivery.
"These are very important fruits of the cooperation between Russia and Venezuela."
Putin and Chavez began with a visit to a Russian merchant marine fishing vessel, which will be used to train Venezuelan sailors.
From there, they placed a wreath at the tomb of Venezuelan independence hero Simon Bolivar, followed by a private meeting at the Miraflores presidential palace, where they signed more than two dozen agreements.
The accords will bring Venezuela "to the next phase of cooperation with Russia, which no longer will be limited to energy and military matters, but now also includes social, cultural and health issues," said Vice President Elias Jaua on state-run VTV television ahead of the visit.
Topping the list was an agreement to set up a Russian-Venezuelan development bank to finance a joint venture for oil and gas exploration in eastern Venezuela's oil-rich Orinoco river basin.
The enterprise -- 60-percent owned by Venezuela, 40 percent by a consortium of Russian companies -- hopes to extract up to 450,000 barrels of oil per day from the Amazon region.
On Thursday, Chavez said Venezuela wanted to prepare for the "post-oil" era by developing nuclear power.
"We're not going to build an atomic bomb, but we want to develop nuclear energy for peaceful purposes," Chavez said.
He was speaking one year after he signed an agreement to that end with Russian President Dmitry Medvedev during a visit to Moscow.
Putin and Chavez also signed cooperation deals in agriculture, transportation, and the prevention of natural catastrophes, according to the meeting agenda.
There was no mention about an agreement on Venezuela's space program.
US State Department spokesman Philip Crowley said the two nations had the right to pursue relations with whichever nations they chose, but questioned Venezuela's priorities.
"We would note that the government of Venezuela was largely closed this week due to energy shortages and to the extent that Venezuela is going to extend resources on behalf of its people, perhaps the focus should be more terrestrial than extraterrestrial."
Links between Venezuela and Russia have grown in recent years, with Medvedev visiting Venezuela in late 2008 during joint naval exercises, while Chavez visited Moscow in September.
Morales also traveled to the Russian capital in mid-February.
Morales and Putin were expected to discuss their own joint venture for gas and oil exploration in Bolivia, which has the second largest natural gas reserves in Latin America.