Russian Prime Minister Vladimir Putin will tackle on Thursday questions from the nation during his annual question-and-answer session, RIA-Novosti quoted the premier's spokesman as saying.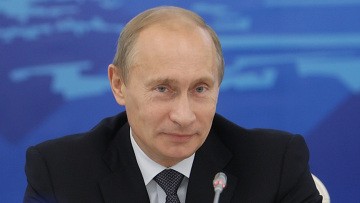 Russian PM Vladimir Putin
As of 09:00 a.m. on Thursday [06:00 GMT], "a huge volume" of some 1.5 million questions and messages had been addressed to the premier, most of them centering on the fight against terrorism in the wake of the recent train attack, social and economic issues, the need for police reform, and other issues, Dmitry Peskov said.
Some of the questions have been posted at www.moskva-putinu.ru, and more can still be submitted.
Peskov said the phone-in, called A Conversation with Vladimir Putin. The Sequel, could last an hour and a half, but warned that everything "will depend on its intensity." It will be aired live at noon Moscow time [09:00 GMT].
Last year saw a record for Putin, who answered 80 questions in three hours and eight minutes, three minutes over the longest of the six televised question-and-answer sessions he had held as head of state.
Today's session is also expected to include a video linkup to Togliatti, where Russia's largest ailing carmaker, AvtoVAZ is based, and the northwestern town of Pikalyovo, where cement production was resumed in the summer upon Putin's instructions, Peskov said.
Some view today's event as Putin's chance to improve his popularity ratings, which have been falling in the past few weeks.