BERLIN, Nov 4, 2010 (AFP) - German flag carrier Lufthansa said it had no plans to ground its three A380 jets after a Qantas flight with more than 450 people on board made a dramatic forced landing in Singapore.
"Our planes are continuing to fly. We are running a normal operation," company spokesman Thomas Jachnow told AFP, adding that two of the three planes were currently in the air.
Earlier Thursday, Air France and Emirates announced they were also not planning to keep their jets on the ground.
The Qantas double-decker plane carrying 433 passengers and 26 crew developed engine trouble just six minutes into a flight from Singapore to Sydney, and dumped fuel over Indonesia before returning to Singapore's Changi Airport.

There were no injuries to passengers or crew, officials said.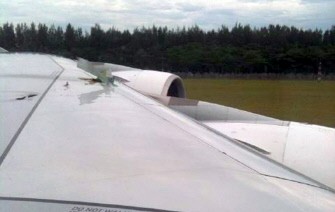 This image taken by passenger Ulf Waschbusch shows the damage wing and engine of the troubled Qantas Airbus A380 plane after an emergency landing at the Changi International airport in Singapore on November 4. AFP
Metal debris including a part bearing the airline's red-and-white "flying kangaroo" emblem slammed into industrial and residential areas of the Indonesian city of Batam, opposite Singapore.