A Sydney-bound Qantas flight was forced to turn back to Bangkok after a bang was heard on board, the airline said Monday, as the carrier separately grounded five aircraft due to a labour row.
The 'Flying Kangaroo', which is locked in increasingly heated talks with pilots, engineers and baggage handlers on wages and conditions, was also explaining how it fumbled the delivery of an unaccompanied 11-year-old boy.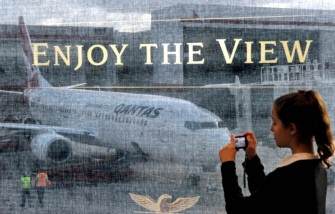 Australian girl Harriet Topliss takes a picture of a Qantas Boeing 737-800 after arriving from Frankfurt amid peak hour chaos caused by labour unrest at Sydney International Airport on October 13, 2011.
Qantas said QF002 from Bangkok to Sydney turned back about one hour into its journey Sunday after a noise was heard and excessive vibrations reportedly felt.
"There was some noise reported on board the aircraft," a Qantas spokeswoman said, adding that engineers had identified the probable cause as one of the aircraft's Rolls-Royce RB211 engines.
The Boeing 747-400, carrying 356 people, touched back down in Bangkok without incident.
"There was some white sparks shooting out of the engine and then they informed us of what was going on, that the engine had been shut down and we were returning to Bangkok," one passenger told Macquarie Radio.
The incident comes as Qantas grounded five aircraft for a month, removing some 400 flights and 60,000 seats from its schedule, after rolling strikes by engineers caused a maintenance backlog.
Qantas has said the industrial action was also affecting forward bookings as unions remain fixed on negotiating pay increases and job security with the carrier refocussing its business towards Asia.
Prime Minister Julia Gillard has called on both sides to sort out their differences, but said it was too early for the government to intervene -- an action available to her if the dispute threatens the national economy.
The developments came as Qantas admitted that it lost the paperwork for an 11-year-old boy who was travelling from Melbourne to Hobart on his own last month.
"While the unaccompanied minor was escorted off the aircraft by Qantas cabin crew, the relevant paperwork was misplaced during the flight," the airline said in a statement.
"This was an error and Qantas has apologised to the customer. At no stage was the child 'lost'."
The child's mother Leanne Decleva told the Sydney Morning Herald that airline staff told her there was no paperwork for her to sign for her son's collection and they did not know who was authorised to pick him up.
"I've shown my licence as ID and they just (said) take him," Decleva said.
"But there could have been a custody battle in train and I may have been prevented from having any contact with him."