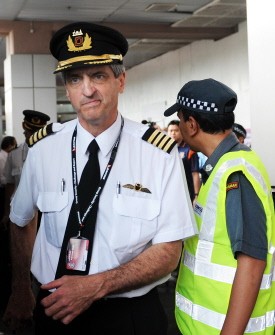 Photo taken on November 4, 2010 shows captain Richard de Crespigny from the troubled Qantas Airbus A380 plane boarding a bus after the plane made an emergency landing at Changi International airport in Singapore. AFP
SYDNEY, Nov 8, 2010 (AFP) - Qantas said Monday it would keep its fleet of Airbus A380 superjumbos grounded after uncovering "slight anomalies" in some engines, reviving safety fears after two mid-air blow-outs last week.
Chief executive Alan Joyce said rigorous testing had found leaking oil in three of the Rolls-Royce engines, pushing back the long-haul planes' return to action by some days.
"On three of the engines what we found is slight anomalies -- oil where oil shouldn't be on the engines," Joyce told Australian public broadcaster ABC.
"These are new engines on new aircraft and they shouldn't have these issues at this stage, so it's given us indication of an area for us to focus into.
"We are keeping an open mind on it but... we think it could have been a materials issue on the engine or a design issue on the engine."
Qantas's impeccable safety record -- the Australian flag-carrier has never had a fatal jet crash in 90 years -- has come into question after two engine explosions in as many days.
On Thursday, a Qantas Airbus A380 was forced to return to Singapore for an emergency landing after one of its four Rolls-Royce Trent 900 engines exploded just minutes into its flight, showering an Indonesian town with debris.
And on Friday, a Qantas Boeing 747 -- which was carrying the A380's captain -- also had to turn back to Singapore after another model of Rolls-Royce engine also failed in mid-air.
Both flights, which were carrying a combined total of 897 passengers and crew, arrived safely back in Singapore but some of those onboard have spoken of their fear at hearing blasts as the engines failed.
"I just looked at my wife and held hands and I really thought I was going to die," New Zealander Hamzah Munif said of his experience on the Boeing 747-400 after returning to Sydney on Sunday.
But Swedish passenger Peter Geisler said he was not frightened by the malfunction which he described as "no big deal" given the aircraft was able to operate on its three other engines.
"I didn't hear any riots or people crying or anything," he told reporters.
Qantas's six A380s, the world's biggest commercial jet, service lucrative routes from Los Angeles and London to Australia's major cities of Sydney and Melbourne, meaning their grounding affects thousands of passengers.
Joyce last week said he believed an engine design flaw may be at fault. But on Monday he said the double-decker A380s would be operating in "days not weeks" despite the latest findings.
"We are the only operator that has grounded the aircraft. We take safety unbelievably seriously and as a consequence, we are taking this action to ground the aircraft and we will leave them on the ground as long as it takes in order for us to ensure the operation is safe," he said.
"We still believe with the progress we are making -- this is days not weeks -- but we will take as long as it needs to in order that we are absolutely comfortable the aircraft is safe to fly."
Qantas has angrily denied union claims that the problems may be linked to the outsourcing of maintenance work to companies abroad.
The incidents have overshadowed Qantas's anniversary celebrations which started on Saturday, with visiting "ambassador-at-large" and trained pilot John Travolta forced to defend the airline's safety record.
"One of the prerequisites for joining Qantas was that I be qualified in the Boeing 747-400," said the Hollywood star, according to ABC.
"It was a glorious month of training and I became a much better pilot after it, but I can assure you that it is the hardest training in the world and that's why you guys are so safe."
Shares in the "Flying Kangaroo" dropped 3.85 percent to 2.75 Australian dollars in early trade.