Australian airline Qantas downgraded its annual profit forecast by up to 80 percent and said it would slash as many as 1,750 jobs and defer multi-billion dollar orders for 16 aircraft.
"We have no choice but to lower our profit forecast and make major changes to ensure Qantas can weather the current commercial environment," chief executive Alan Joyce said, lowering profit forecasts from 500 million dollars (350 million US) to 100-200 million.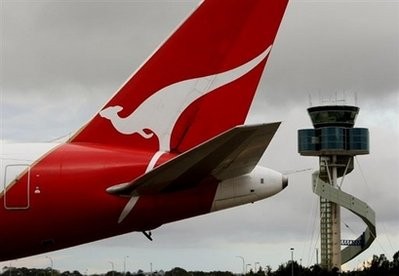 A Qantas plane in Sydney
Qantas said it was responding to a "rapid and significant deterioration of trading conditions in the past few weeks" and warned the new profit guideline could be downgraded further if conditions continued to decline.
"The profit forecast range is subject to no further changes in market conditions, fuel prices and volatility in hedge accounting results," it said.
The airline also said it would reduce capital expenditure by at least 800 million dollars in 2009-10, defer orders for four Airbus A380s and twelve Boeing 737-800s and reduce capacity by a further five percent.
Qantas had ordered 20 A380s for its long-haul fleet.
In addition, it will ground the equivalent of 10 aircraft and make them available for sale, the carrier said.
Qantas said it would cut 500 management jobs and may have to slash a further 1,250 full-time equivalent positions to protect the airline's long-term viability.
The latest jobs cuts come after Qantas slashed 1,500 positions in July last year and 90 senior management jobs last month.
Deputy Prime Minister Julia Gillard said the government would do what it could to help Qantas workers who lost their jobs.
"Clearly this is very unwelcome news and it's going to be very distressing for those Qantas workers who are shortly to be told that they have been made redundant," she told reporters.