SYDNEY (AFP) – Australian airline Qantas shrugged off a safety scare involving its flagship A380 superjumbos to post a four-fold increase in half-year net profits to Aus$241 million ($240.6 million) on Thursday.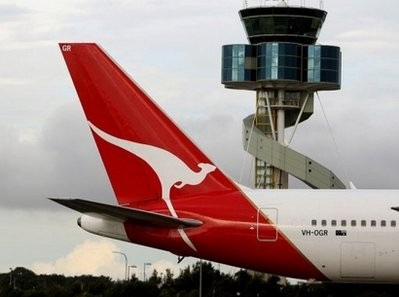 AFP file - The tail of a Qantas airplane is seen near an air traffic control tower in Sydney.
Underlying profit before tax rose 56 percent to Aus$417 million, as sales grew 10 percent to Aus$7.59 billion over the second half of last year, despite November's mid-air engine blast that grounded the double-decker planes.
"This result was achieved while overcoming significant operational challenges during the period including disruptions to the A380 network from November," Qantas said in a statement.
In a sign aviation is recovering from the global downturn, Qantas flights raked in pre-tax profits of Aus$165 million, while budget offshoot Jetstar earned a record Aus$143 million. The company will not pay an interim dividend.
"Qantas and Jetstar are now the two most profitable domestic airlines in Australia, demonstrating the strength of our two-brand strategy and capacity to service and grow both the business and leisure sectors," said chief executive Alan Joyce.
"The group's response to events that included the A380 Rolls-Royce engine failure, and subsequent temporary grounding of the Qantas A380 fleet in November, also showed us to be flexible, adaptable and resilient."
On November 4, a Qantas Airbus A380 made an emergency landing in Singapore when one of its four Rolls-Royce engines exploded minutes after take-off, raining debris on an Indonesian island and blowing a hole in the wing.
The incident sent jitters through airlines operating A380s, and prompted extensive safety checks that revealed a flaw in the British-made Rolls-Royce engines.
Qantas, which only resumed its full A380 schedule last month, said the scare had delivered a financial hit of Aus$80 million, plus Aus$100 million in repair costs which were covered by insurance and its contract with Rolls-Royce.
The airline said it was still discussing compensation with the engine-maker, but was yet to strike an agreement.
"Qantas remains in discussions with Rolls-Royce in relation to compensation for the economic loss incurred. No agreement has been reached at this stage," it said.
The airline also said it would boost its fleet by hiring or extending leases on 31 aircraft, and buying 10 Fokker 100s for domestic flights, as the "general operating environment continues to improve".
But it warned that widespread flooding and the impact of top-strength Cyclone Yasi in northeastern Australia would hit second-half pre-tax profits to the tune of Aus$70 million.
However, Qantas estimated that before-tax profits for the financial year ending in June would be "materially stronger" than the 2010 figure of Aus$377 million.
Macquarie analysts warned that future profits may be hit by higher fuel costs, despite Qantas raising its surcharge this month.
"In a rising fuel environment we struggle to see how Qantas will be able to achieve the necessary price increases to offset higher fuel costs, in light of increased domestic competition," the company said.
Qantas shares closed 5.44 percent higher at Aus$2.52.