SYDNEY, Nov 5, 2010 (AFP) - Qantas said Friday it was too early to speculate what caused an engine explosion on a flagship A380 superjumbo as investigations got under way into the dramatic mid-air emergency.
The Australian flag-carrier said it had "liaised closely" with manufacturers Airbus and Rolls Royce over Thursday's incident, when one of the plane's four engines blew up minutes after taking off from Singapore with 466 people on board.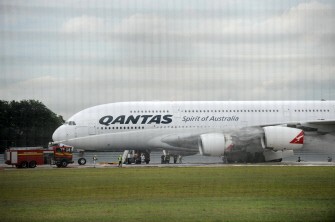 Fire services spray liquid at the engine of the Qantas Airbus A380 aircraft that was forced to make an emergency landing on the runway of Changi International airport in Singapore on November 4, 2010.
The drama has thrown the A380 -- the double-decker giant touted as the future of long-haul travel -- into the safety spotlight three years after it took to the skies.
Qantas, which enjoys a peerless safety record, has grounded its fleet of six A380s pending investigations, while Singapore Airlines said Friday it would resume using the mammoth craft after carrying out safety checks.
Qantas chief executive Alan Joyce angrily denied union claims the engine blast was linked to the outsourcing of maintenance work abroad, the source of a long-running row between the two sides.
"It is clearly too soon to speculate on the cause of yesterday's engine failure," Joyce said in a statement.
"Regardless, (aircraft engineers' union chief) Steve Purvinas continues to peddle prejudices and generalisations about aircraft maintenance and safety."
Australian investigators headed to Singapore on Thursday after the incident, which showered an Indonesian town with debris from the engine casing before the plane returned to the city-state trailing smoke and made an emergency landing.
Qantas said the plane had 440 passengers and 26 crew on board but no injuries were reported.
European manufacturer Airbus also said it was sending a team to Singapore and would cooperate fully with the probe launched by Australian and French air accident investigators.
Singapore Airlines, the first airline to operate the world's largest passenger jet, said it resumed A380 flights "following precautionary checks".
Qantas, which has never had a fatal jetliner crash in its 90-year history, said the plane involved was the first A380 it received in September 2008, and recently underwent its first major maintenance check, in Germany.
The Australian flag-carrier delayed three flights usually serviced by A380s between Melbourne and Sydney and Los Angeles, as passengers on the aborted trip resumed their journey to Sydney on replacement planes.
Witnesses told of hearing a loud "bang" shortly after take-off as the left-side engine blew, damaging the wing above. The pilot then dumped fuel and circled Singapore before landing.
"All of a sudden I heard a big bang, like a big gunshot bang, like a really loud gun," Tyler Wooster, 16, who was in a window seat above the wing, told Australian public broadcaster ABC.
"I couldn't see, obviously, what happened to the engine beneath, but I saw it shot a big hole through the wing... You could see how the the wing had peeled off."
After 18 months of production delays, the A380's first commercial flight, operated by SIA, was on the same Singapore-Sydney route in October 2007.
Since the launch, fuel and computer glitches have grounded several A380s and one Air France flight was forced back to New York after problems with its navigation system in November 2009.
In April, a Qantas A380 damaged tyres on landing from Singapore in Sydney, causing a shower of sparks.
A total of 37 A380s are now flying commercially. Another 234 are on order from airlines, according to Airbus, whose US arch-rival Boeing is banking on the smaller 787 Dreamliner competing for the long-haul sector.