BEIJING, March 16, 2011 (AFP) - China stepped up radiation monitoring of passengers and goods from neighbouring Japan on Wednesday as fears mounted about harmful nuclear contamination from the stricken country.
Internet users expressed concern over the safety of food imported from quake-hit Japan, prompting Japanese restaurants to issue online reassurances that their ingredients had been imported from Australia and Europe.
Postings on Twitter-like microblogging sites advised mothers to "be careful" if buying baby formula from Japan while others suggested many people would "give up eating Japanese food" for fear it was contaminated by radiation.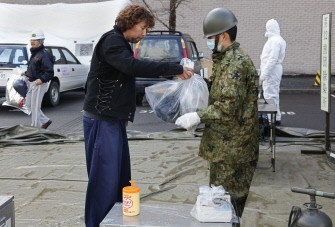 A Self Defense Force personnel receives a plastic bag containing clothing potentially contaminated by radiation from a resident in Nihonmatsu city, Fukushima prefecture, on March 16, 2011. AFP
Beijing has begun helping its nationals leave areas in Japan devastated by Friday's 9.0-magnitude quake and ensuing tsunami that have left more than 11,000 dead or missing and triggered a crisis at a nuclear plant.
The Fukushima nuclear facility on Japan's east coast has been rocked by a series of explosions, fires and radiation leaks since the massive earthquake and monster waves cut power to the plant and caused reactor fuel rods to heat up dangerously.
China's ministry of environmental protection has said so far no abnormal radiation levels had been detected from Fukushima, which is 1,000 kilometres (621 miles) from the nearest part of northeastern China.
But border inspection authorities in Shanghai released a statement Wednesday saying they were checking all incoming travellers, luggage and imports of food and other goods from Japan that enter the city's airport or port.
Shanghai is the world's busiest container port.
China's product safety agency issued a notice ordering authorities involved in inspection of incoming goods nationwide to strengthen monitoring of "atomic and radioactive matter at ports".
Air passengers arriving in Beijing were being monitored for radiation but officials said this was routine for all passengers even before Japan's disasters and they had not stepped up vigilance.
The radiation anxiety was by far the most popular topic on the microblog service of leading portal Sina.com, according to its ranking system.
Searches on the service for the term "nuclear leaks" appeared to be blocked, possibly to head off rising fears among web users. However, many other related terms were not blocked and other providers appeared not to be censoring at all.
Meteorological authorities say any radioactive particles released by the Japanese plant should have no impact on China for at least the next two days, citing current weather patterns.
Chinese authorities in Japan have mounted an operation to help evacuate its citizens from disaster-hit areas. A Chinese media report said earlier there were about 33,000 Chinese nationals in five disaster-hit Japanese prefectures.
The airlines China Southern and China Eastern said they have added flights serving Japan while state flag carrier Air China said it was replacing some of its planes servicing Japanese routes with bigger models to accommodate demand.
The state-run China National Radio also reported that two ships able to transport a total of 4,000 people planned to sail Wednesday from the eastern city of Yantai to Japan to bring back Chinese citizens.