LOS ANGELES, Aug 30, 2009 (AFP) - Raging wildfires claimed their first fatalities late Sunday as they gained ground around Los Angeles where California Governor Arnold Schwarzenegger oversaw the battle against the blazes.
Two firefighters were killed by the fires raging north of here, authorities announced.
Three other people were injured earlier.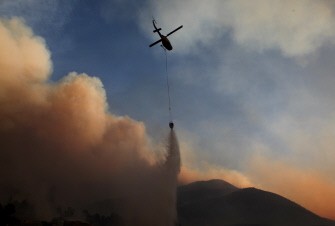 A helicopter drops water on hot spots while fighting the Station Fire August 30, 2009 in Acton, California (AFP photo)
One of the fires, about 30 kilometers (19 miles) long, was burning largely out of control along a ridge in a mostly populated area north of Los Angeles. It was under five percent contained, firefighters said.
The US Forest Service said the blaze by midday had destroyed 14,000 hectares (35,200 acres).
And by late Sunday the fire in Angeles National Forest was approaching a historic solar observatory and television transmission towers on Mt. Wilson, The Los Angeles Times reported citing county fire officials.
Crews cleared brush around the structures, but fire officials had doubts about leaving personnel on the mountain because of limited escape routes, the Times reported.
The governor visited the Station fire in Los Angeles County for a briefing earlier on the status of firefighting efforts across California and to encourage the thousands battling the blazes, which are threatening at least 10,000 homes, and 2,500 other buildings including 500 businesses.
"California has the best and bravest firefighters on the front lines protecting our residents," Schwarzenegger said.
"I am confident California has emergency response resources in place to ensure the heroic men and woman fighting these fires have the resources they need. We are proud to provide access to any state resources needed to the US Forest Service while they battle the Station fire."
The massive operation has sent more than 6,458 firefighters into action as well as a DC-10 that dumps water on the blaze from above.
Saturday three people were injured and evacuated, and at least three homes destroyed by the fire in Big Tujunga Canyon.
"Listen carefully -- there were again people that did not listen and people that got burned and really badly injured because they did not listen," Schwarzenegger warned.
So far a total of 4,000 homes have been evacuated, mostly in Acton, La Canada-Flintridge, Altadena and La Crescenta, as well as in Glendale, a near-in Los Angeles suburb.
The US Forest Service has warned that the possibility of fires spreading is extreme.
The San Gabriel Valley east of Los Angeles has experienced record heat and low humidity, with temperatures soaring above 100 degrees Fahrenheit (38 degrees Celsius) in the hottest locations, the National Weather Service said in its red flag warning for the region.
Schwarzenegger declared states of emergency in Los Angeles and Monterey counties on Friday in response to the wildfires.
A key factor in the fires' spread is that the areas most at risk are covered with vegetation that has not experienced fire for some four decades, making it even more susceptible to the blaze.
California, the most populous US state, is frequently hit by wildfires and in 2007 suffered the worst blazes in its history, which forced the evacuation of 640,000 residents and destroyed around 2,000 homes in southern California.