The nation's railroad operators expect a tepid recovery for the U.S. economy in 2010, as both businesses and consumers continue to wrestle with the effects of the recession.
The severe economic slump cut shipping demand for the railroads because American consumers and industries have been buying fewer of the cars, chemicals, crops, lumber and containers of imported goods the railroads carry.
Union Pacific Corp., Burlington Northern Santa Fe Corp. and CSX Corp. — the nation's top three railroad companies — all say demand for coal, once a lucrative segment, is slumping as U.S. factories and homeowners use less electricity. And as people continue to spend sparingly, shipments of consumer goods will show a slight increase at best.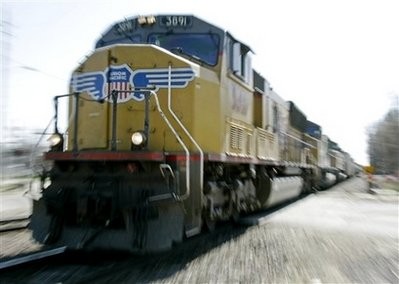 FILE - In this April 22, 2008 file photo, a Union Pacific train travels through Council Bluffs, Iowa.
The companies reported lower fourth-quarter profits this week and said results won't improve until they see a firm turnaround in the economy.
"Until employment shows some signs of improvement, you're going to have consumers stay on the sideline, and I think it's going to be pretty tough to see any kind of a strong recovery," Union Pacific Chairman and CEO Jim Young said in an interview with The Associated Press on Thursday.
Economists are forecasting U.S. gross domestic product to rise a little over 3 percent, modest growth for an economy coming out of recession.
Many economists are hoping the U.S. manufacturing sector is beginning to rebound as the economy struggles to emerge from the worst recession since the 1930s. Manufacturing activity has expanded for five straight months, according to the Institute for Supply Management, a trade group. But construction activity remains weak, reflected in the steep drop reported by Union Pacific and Burlington Northern in shipments of industrial products, a category that includes lumber.
Burlington Northern says on its Web site that it transports enough lumber each year to build more than 500,000 homes and enough newsprint each year to print 1 billion Sunday newspapers.
Union Pacific reported a 17-percent drop in fourth-quarter net income Thursday to $551 million, or $1.08 per share. The Omaha-based company handled 5 percent fewer carloads during the quarter.
CSX on Tuesday said fourth-quarter net earnings rose 23 percent compared to a year ago. Burlington Northern's quarterly earnings fell to $536 million, or $1.55 per share, compared with $615 million, or $1.78 per share. Revenue fell 16 percent. The company expects any economic turnaround to be gradual.
CSX CEO Michael Ward said the railroad expects better results in all of its business segments in 2010, except coal. But CSX, like all the major railroads, will be comparing this year's results with 2009's weak performance.
Coal shipments have been hit hard. As industrial production slowed and jobs vanished, plants closed and consumers reduced their electricity consumption. That, combined with mild weather last summer, resulted in large coal stockpiles at many power plants.
CSX is pessimistic about its coal business partly because more utilities in the eastern United States have switched to cheaper natural gas to run power plants. The switch to natural gas isn't as common in the western U.S. where Union Pacific and Burlington Northern deliver coal.
Automotive shipments should be a bright spot in railroad earnings reports during the first half of 2010. U.S. auto sales were solid in December and should improve from last year's total of 10.4 million, a 27-year low.
Agriculture shipments offer another opportunity for growth. Already, Union Pacific said its ethanol shipments are up because ethanol plants that used to be owned by bankrupt VeraSun Energy have reopened under new owners.
Citi Investment Research analyst Matthew Troy said railroads will carry more crops later this year if the USDA's forecasts are correct. Troy said in a research note that sustained improvement in grain traffic could be a bright spot in early 2010.
When consumers start buying more goods and retailers have to replace them, railroads will benefit. That's because many imported shipping containers are carried inland from ports on trains before being delivered to their final destinations by truck. Union Pacific actually hauled 5 percent more of those intermodal containers in the fourth quarter although revenue for that sector was still down 3 percent.
And Union Pacific officials said they're watching to see if construction activity picks up this spring as more projects funded by stimulus money get going. That could lead to an increased demand for industrial shipments.
Besides the economy, fuel prices will be another factor in the railroads' 2010 prospects. When diesel gets expensive, the cost of shipping on railroads becomes more attractive compared to shipping by truck.
"If the economy starts to pick up, you'll see fuel prices move up. That makes us much more competitive versus moving products on the highway," Young said.