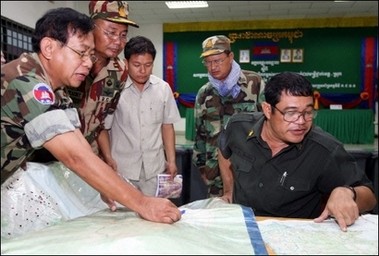 Cambodian royal armforces commander Ke Kimyan (R) looks at a map to locate the charter plane AN-24 that crashed in the jungle in Kampot province (AFP Photo)
More than 1,000 rescuers on Tuesday scoured dense forests in southern Cambodia for a chartered tourist plane believed to have crashed the day before, but heavy rains hindered the search.

All 22 people on the aircraft -- 13 Republic of Korea, three Czechs, a Russian pilot and five local crew -- travelling from the Angkor temple town of Siem Reap to the seaside resort of Sihanoukville were feared dead, officials said.
"I hope there are some survivors, but nobody is sure," said RoK's Ambassador Shin Hyun-suk, before joining other Korean diplomats and Cambodian officials at a meeting called to map out how best to reach the crash site.
"The rain is affecting the search," he told AFP.
The Russian-made AN-24, which disappeared from radar about 40 minutes after leaving Siem Reap early Monday, is thought to have crashed in a mountainous area in Kampot province about 50 kilometres (30 miles) from its destination.
Ly Thuch, deputy director of Cambodia's National Disaster Committee, said more than 1,000 police, soldiers and local conservation workers were searching for the plane, but said they had only vague eyewitness accounts to guide them.
He said Cambodia had asked the US embassy to provide satellite photographs of the area to help them locate the crash site.
Prime Minister Hun Sen, who arrived in Kampot on Tuesday, said the government was offering 5,000 dollars to anyone who found the crash site or retrieved dead bodies.
RoK 's diplomats told AFP they had identified all 13 Koreans on board, including two boys aged two and seven years old. All had been part of a tour group, they said.
Koreans made up the largest percentage of 1.7 million foreign visitors to Cambodia in 2006.
The crash is the first major air disaster to strike Cambodia in a decade, but highlights the country's need to bolster domestic air safety amid a rise in tourist arrivals.
Cambodia's last significant air accident occurred in 1997, when a Vietnam Airlines flight from Ho Chi Minh City to Phnom Penh crashed in heavy monsoon rain as it attempted to land at the capital's international airport.
Sixty-four people were killed in the crash. Only two infants, a Thai boy and a Vietnamese boy, survived.