The Muslim holy fasting month of Ramadan will begin on Saturday in Egypt, where authorities are turning the clocks back a month early in a bid to reduce daylight hours for those fasting.
"The day after tomorrow, Saturday, is the first day of the holy month of Ramadan," the country's mufti, Ali Gomaa, said in a statement carried by the official MENA news agency.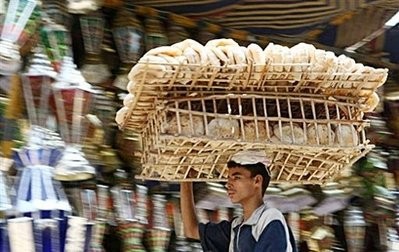 A vendor carries a tray of bread as he rides a bicycle past a stall selling traditional tin lanterns known as Fawanis, used to decorate during the fasting month of Ramadan, in Cairo
The start of the ninth and holiest month of the Muslim calendar is traditionally determined by the sighting of the new moon, often dividing rival Islamic countries and sects over the exact date.
Because it follows the lunar cycle, Ramadan comes 11 days earlier every year on the Gregorian calendar, bringing the fasting month this year in the summer.
From midnight (2100 GMT) on Thursday, Egypt will turn back the clocks by one hour, cutting short its summer time by a whole month.
During Ramadan, Muslims are required to abstain from food, drink and sex from dawn until dusk as life slips into a lower gear during the day. Activity peaks between "iftar," the breaking of the fast at sunset, and "suhur", the last meal of the day before sunrise.