Dissident Madagascan soldiers claimed Wednesday they had taken power of the island as it voted in a constitutional referendum, but leader Andry Rajoelina vowed a swift crackdown.
General Noel Rakotonandrasana, who played a key role in Rajoelina's army-backed coup in March 2009, declared that government institutions had been suspended and a military council was in charge.
"From now on all institutions are suspended and a military committee is going to run the country," said Rakotonandrasana, surrounded by around 20 soldiers at an army base near Antananarivo airport.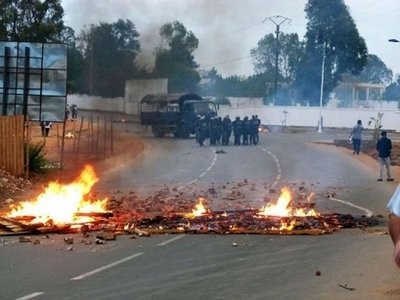 Madagascan forces stand at a distance from a burning barricade in a road leading to Antananarivo's International airport.
But Rajoelina insisted that "the government will assume its responsibilities and consequently take action."
"There is a meeting currently at the prime minister's office with the military. They will determine what action is to be taken."
"I have received death threats from (some) soldiers if I don't resign. I am not afraid. God is protecting me," added Rajoelina, who appeared calm as he spoke at a polling station near his home in the north of the capital.
On Wednesday police fired teargas to disperse hundreds of anti-government protesters who blocked roads near the airport on the edge of the capital, an AFP correspondent said.
The demonstrators had wanted to stop loyal troops from reaching the mutineers.
Security forces cleared the road of stones and garbage but did not enter the camp where the general made the announcement, which seemed deserted by late afternoon.
Prime Minister Camille Vital said a solution was needed to the latest crisis to avoid disruptions to the referendum, but added the situation was under control.
"They have tried to stage a coup d'etat, (but) up until now everything is under control and everything is normal," Vital told the France 24 television channel in a telephone interview.
The polling, the first since Rajoelina toppled president Marc Ravalomanana, proceeded slowly but peacefully during the day.
The vote marks a first step under an August agreement between Rajoelina and some 100 small parties -- but not the main opposition groups -- to find a way out of the country's political limbo.
The proposed charter makes no fundamental changes in the vast island's politics and governance, and essentially calls for "outlining, limiting and rationalising power to prevent dictatorial tendencies."
Of note however is the lowered age limit for presidential candidates from 40 to 35, which allows the 36-year-old Rajoelina to stand for election although he has pledged not to contest the presidency.
Unlike the current constitution, the new law also proposes a presidential and parliamentary system under which the president appoints a prime minister from a party with parliamentary majority.
However, opponents of the former disc jockey-turned leader have called for a boycott, accusing Rajoelina of spurning previous power-sharing accords agreed under international mediation.
The three opposition movements are each headed by former presidents: Ravalomanana, Didier Ratsiraka and Albert Zafy.
The international community, on which Madagascar's economy is highly reliant, has made its scepticism clear.
"The political structures and processes created by the de facto government remain insufficiently democratic and consensual," US Deputy Assistant Secretary for African Affairs Karl Wycoff said during a visit this month.
Rajoelina led weeks of sometimes violent street protests to topple Ravalomanana, with General Rakotonandrasana a key player.
Rakotonandrasana was later appointed armed forces minister but sacked in April this year on suspicion of plotting against the current regime.
Under the August deal, municipal elections are to be held in December followed by parliamentary polls in March next year and a presidential vote in May.