Fears of a deep global recession sparked sharp falls in Asian markets Friday after a Wall Street slide, as the International Monetary Fund warned that advanced economies would contract next year.
The IMF called for government spending to battle the financial crisis, but markets also took fright at an unprecedented British interest rate cut of 1.5 percentage points and a slew of gloomy profit forecasts.
Tokyo's Nikkei stock index tumbled 4.35 percent by lunch after dropping as much as seven percent at one point following a profit warning from Toyota.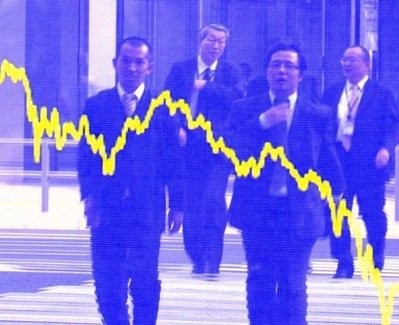 People are reflected on a share chart in Tokyo.
Hong Kong share
prices opened 3.8 percent down, Sydney lost 4.1 percent and Singapore dropped 4.5 percent.
"Massive pullouts of funds had eased in recent days, but economic worries were still there," said Kazuhiro Takahashi, general manager at Daiwa Securities SMBC.
"With nothing fundamentally solved yet, the current focus is on what economic stimulus (packages countries) will hammer out," he said.
The IMF said the downturn in leading economies would be "broadly comparable in magnitude" to recessions in 1975 and 1982, but that recovery "is projected to begin late in 2009."
In sharp downward revisions to economic projections made less than a month ago, the IMF said advanced economies were now seen shrinking by 0.3 percent in 2009, instead of the prior estimate of 0.5 percent growth.
It lowered its global economic growth forecast to 2.2 percent.
Investors were also bracing for Friday's report on US payrolls for October to show a loss of 200,000 jobs amid weak economic momentum.
South Korea cut its benchmark seven-day repo rate for the third time in a month by a quarter of a point to 4.0 percent, its lowest level since February 2006, as it tries to stimulate its export-driven economy.
Meanwhile, the IMF said it was awarding a loan of 15.7 billion dollars to Hungary, among the first emerging market countries to suffer from the fallout of the global crisis that began in the US subprime mortgage sector.
The Bank of England slashed its key lending rate by a record 1.5 percentage points to 3.0 percent Thursday, while the European Central Bank cut its main lending rate by half a percentage point to 3.25 percent.
Normally, a reduction in borrowing rates would be a strong buy signal but markets were suspicious about the need for such drastic action, especially in Britain, believing the economy must be seriously at risk, dealers said.
The dollar fell to 97.12 yen in Tokyo morning trade, down from 97.72 in New York late Thursday. The euro dropped to 1.2674 dollars from 1.2713.
"Investors are worried that things are going to get worse, and that the financial system and the economy are unlikely to get back to normal any time soon," said Masatsugu Miyata, chief forex dealer at Hachijuni Bank.
US stocks had tumbled for a second day in a row Thursday as the euphoria of Barack Obama's presidential election victory Tuesday dissipated in the face of the brutal financial crisis.
Leaders of the struggling US car industry travelled Thursday to Washington asking for more help from the government to staunch the haemorrhaging of their balance sheets.
There was gloomy news Friday from Japan Airlines, Asia's largest carrier, which said its operating profit fell by 47 percent in the fiscal first half, hit by high fuel costs and the tough economic climate.
The Dow Jones Industrial Average plummeted 443.16 points (4.85 percent) to close at 8,696.11, nearly matching a 486-point slide on Wednesday.
In European trade, the London FTSE 100 index of leading shares lost 5.70 percent to 4,272.41 points, the Paris CAC 40 tumbled 6.38 percent to 3,387.25 percent and in Frankfurt the DAX shed 6.84 percent to 4,813.57 points.
Russia's stock markets plunged more than six percent following worldwide falls and declining oil prices.
South America's largest market, Sao Paulo, dropped 3.77 percent, while Lima lost 6.84 percent and Santiago 2.81 percent.