DAMASCUS, Sept 3, 2011 (AFP) - Syrian forces killed 27 people in two days as they quelled anti-regime protests, activists said Saturday as the Red Cross chief arrived for a visit and a punitive EU oil embargo came into effect.
European ministers warned on Saturday of even more sanctions over Damascus' failure to heed mounting international calls to halt a months-long crackdown on protests.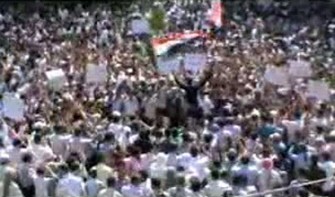 AFP - An image grab from footage uploaded on YouTube and dated September 1, 2011 shows Syrian protesters demonstrating against President Bashar al-Assad's regime in the flashpoint Damascus suburb of Duma
Russia criticised the latest sanctions while the United States, which has been urging moves to isolate President Bashar al-Assad's regime, welcomed them.
Meanwhile Red Cross chief Jakob Kellenberger arrived Saturday afternoon in Damascus for talks with Assad over access to prisoners and areas affected by the crackdown, said the International Committee of the Red Cross.
Five people were killed Saturday by security forces in the rebellious northwestern province of Idlib and in the central protests hubs of Homs and Hama, a day after anti-regime protests which activists said cost 21 lives.
The Local Coordination Committees (LCC) said three people were killed and five wounded Saturday in Maarrat "during an incursion by tanks and 50 buses carrying members of the security forces" in Idlib province.
A fourth man was killed Saturday in Deir Baalba neighbourhood of Homs during a raid by security forces, the Britain-based Syrian Observatory for Human Rights reported.
Another man was shot dead in the evening by security forces manning a checkpoint in the village of Qastun in the province of Hama, said the Observatory.
And a political activist who was shot and wounded late Friday also died on Saturday from his injuries, said the LCC.
The Observatory said the Idlib operation aimed at tracking wanted people, as well as Hama's attorney general, Adnan al-Bakkur, who announced he quit in protest at the repression in a video posted online Wednesday.
Syrian authorities said he was kidnapped by an "armed gang" who forced him under pressure to issue "pure lies."
The Observatory also reported that 17 people were arrested Saturday in the town of Al-Hula in Homs province, where power and mobile phones were cut off as military and security reinforcements arrived in the area.
More than 2,200 people have been killed in Syria since almost daily protests began on March 15, according to the United Nations, while rights groups say more than 10,000 people are behind bars.
In addition to the oil embargo that went into effect Saturday, the EU expanded a list of around 50 people, including Assad, targeted by an assets freeze and travel ban, adding four Syrian businessmen accused of bankrolling the regime. Three firms were also added.
The oil embargo is aimed at depriving Assad's regime of a vital source of cash as the EU buys 95 percent of Syria's crude exports.
Russian Foreign Minister Sergei Lavrov criticised the measure, saying "unilateral sanctions will do no good," Russia's Interfax news agency reported.
US State Department spokeswoman Victoria Nuland said however the oil ban would "directly impact" the Syrian regime's financing of its crackdown and would send a "powerful signal to the Assad regime to end the violence."
Meanwhile EU foreign policy chief Catherine Ashton said the European bloc would "continue to put the pressure on and to look for ways of doing so", when asked if the EU planned more sanctions on Syria.
The ICRC delegation chief in Damascus said Kellenberger would stay in Syria until Monday afternoon and also hold talks with Prime Minister Adel Safar and Foreign Minister Walid Muallem.