BANGKOK, April 14, 2010 (AFP) - Farmer Srian Paengsun's crops have withered in the month he has spent camped in the Thai capital with thousands of red-shirted demonstrators, but he says it's a price worth paying.
"My rice fields are all dead. My wife didn't have the energy to farm them. But even though the crop is gone, this is worth it. This is what I want to do," he says at the sprawling rally site in Bangkok's historic district.
The 43-year-old from northeastern Surin province is one of thousands of "Red Shirt" protesters who have been occupying two key areas of the city in their bid to force Prime Minister Abhisit Vejjajiva to call immediate elections.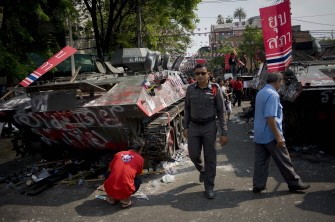 Red Shirt anti-government protesters stand next to abandoned Thai army armoured vehicles as a police officer (C) passes by at the Democracy Monument as the anti-government rally continues in central Bangkok on April 14, 2010. AFP photo
The rally sites have been fitted out with tents, canteens and large stages, where loudspeakers blast out a mixture of fiery anti-government rhetoric and country folk music.
Red Shirts have set up makeshift toilets hooked up to the local water systems, brought in trailers equipped with showers and use washing facilities at nearby temples and hospitals.
Despite a crackdown by security forces on Saturday that left 21 people dead and more than 800 wounded, Reds continue to trickle in to join the protests, which have blocked traffic and caused many shops to shut.
"Since we got news the army shot Red Shirts, more people want to come out," says 45-year-old Chalpramon Chonpasin, who joined the demonstrations this week.
Despite sweltering temperatures near 40 degrees Celsius (104 Fahrenheit), organisers say about 30,000 Red Shirts have been sleeping at an encampment around Democracy Monument in the area that was the scene of the violence.
Another 20,000 have been camped out at a second enclave in the commercial district, which has been mostly peaceful, often with a carnival atmosphere.
The demonstrators said Wednesday they would merge the two sites, converging on the commercial hub, home to a clutch of five-star hotels and major shopping centres.
Many Reds are seeking the return of fugitive former premier Thaksin Shinawatra, hailing his policies for the masses including cheap healthcare, and are refusing to go home until the government dissolves parliament.
Tiang Chaisena, 55, a farmworker who came in a neighbour's pickup truck from Chanthaburi in central Thailand, says she has been sleeping on a plastic sheet on a Bangkok street since the mass demonstrations began on March 12.
"It's not comfortable but we need to stay and fight. Everyone who comes here sleeps like this. It's very hot, but we need to stay," she says.
At a table behind the main stage in the historic district, organiser Somwan Asarasee collects Red Shirt donations, which he says go to transport, food, generators and tent rentals.
Enterprising vendors also sell food, red neckerchiefs, T-shirts and flip-flops, along with the red plastic foot and heart-shaped clappers that have become one of the quirky symbols of Thailand's anti-government movement.
Chawan Chairat, 43, closed her Bangkok karaoke bar to join the Red Shirts, but decided to make some cash selling mango salads and soft drinks from a stand in the middle of the road.
"I come to the demonstration every day and I lose a lot of money, so I thought it would be a good idea to have something to sell," she says.
At a first aid tent, former nurse Suksuipon Boonchuay, 40, says she helps treat 200 to 300 people each day, mostly for heat exhaustion or the effects of air pollution.
"More and more people come every day because we have fought for a long time," she says.
Although they are dubbed "rural hordes" by one local paper, Red Shirts say they have travelled from both near and far in their bid to oust Abhisit's government.
Teerachai Chaipayak, 25, a Bangkok law student attending a rally for his third time, says his parents disapprove of his Red Shirt support.
"They say, don't come here and they say they want to cut me from the family. I think they're just kidding, but there's some truth to the words."