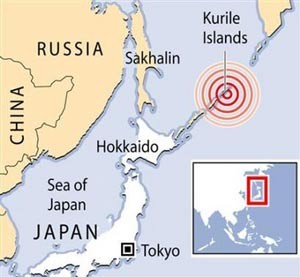 Small tsunami waves hit Japan's northernmost island late on Wednesday after a major quake in the north Pacific triggered a full-scale tsunami warning for areas of northern Japan and Russia's sparsely populated Kurile islands
Coastal residents voiced relief Thursday as one of the biggest earthquakes in recent times did little more than flip over boats in a scare that demonstrated Japan's quick-moving tsunami alert system.
The earthquake, which Japanese meteorologists gave a revised magnitude of 7.9, struck late Wednesday in the northern Pacific Ocean northeast of Japan, triggering alerts stretching from Indonesia to California.
In Japan, authorities urged some 130,000 people to evacuate to higher ground in fear of the seismic waves. With memories of the devastating 2004 Indian Ocean tsunami still fresh, hundreds of cars rushed to the hills.
The Japan Meteorological Agency had warned of waves up to two meters (six and a half feet), but the biggest of a series of tsunamis to hit northern Japan was just 40 centimeters (16 inches).
"We are glad to hear that there was no damage to any boats, the most important means for our livelihoods," Takeshi Tanaka, an official of the Fishermen's Association of Nemuro said, adding that fishermen sailed out before dawn on Thursday and were catching fish as usual.
Russian media said one person died and another was missing after a trawler sank Thursday near the Russian-ruled Kuril islands off Japan's northern coast in one-meter (three-foot) waves.
It was not immediately clear if the incident was connected to the previous day's tsunami. The Kuril islands were the closest territory to the epicenter.
The US Geological Survey said it was an 8.3 magnitude quake, making it the 19th most powerful tremor ever recorded.
The underwater earthquake that triggered the December 2004 tsunami measured 9.1, the third strongest in recorded history. The disaster killed 220,000 people around the Indian Ocean coast, many of them struck without warning.
Japan, home to 20 percent of the world's major earthquakes, prides itself on having one of the world's more accurate systems for predicting tsunamis.
The meteorological agency issued the tsunami warning 14 minutes after the earthquake occurred at 8:15 pm (1115 GMT) -- and eight minutes before it reported the quake itself, owing to the remote location.
Last month, the meteorological agency further upgraded its tsunami warning system, which can technically provide data less than two minutes after a big jolt.
"But it took us longer time than usual because the epicenter was far from our seismic intensity gauges," the agency official said.
Japanese and US seismologists released tsunami data through international channels including to Russia, which disputes some of the Kuril island chain with Japan.
Across the Pacific in California, two docks were damaged and several boats were tossed onto dry land by the force of the tsunami.
"It was a tidal surge, about two or three feet of water, it kept coming and going for 20 minutes. It was very violent," said Paul McAndrews, harbor facility manager in Crescent City, around 560 kilometers (355 miles) north of San Francisco.