North Korea has begun building an experimental light-water reactor at its Yongbyon nuclear complex, a news report said Saturday.
The reactor will be able to generate about 25 to 30 megawatts of electricity, Siegfried Hecker, former director of the U.S. Los Alamos Nuclear Laboratory, told reporters in Beijing after a trip to North Korea, according to Japan's Kyodo News agency.
Hecker said construction of the reactor has just begun and it is likely to take several years to complete, according to Kyodo.
In March, North Korea said it would build a light-water power plant using its own nuclear fuel in the near future.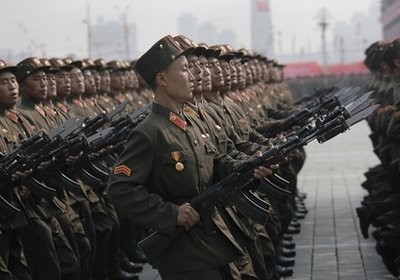 North Korean soldiers march during a massive military parade marking the 65th anniversary of the communist nation's ruling Workers' Party in Pyongyang, North Korea on Sunday, Oct. 10, 2010
Building a light-water reactor would give the country a reason to enrich uranium, which at low levels can be used in power reactors, and at higher levels in nuclear bombs.
Recent satellite images of the Yongbyon complex have shown new activity there, the Institute for Science and International Security said in September.
South Korea is aware of some movements at the nuclear complex and needs to further analyze North Korea's intentions, a South Korean Foreign Ministry official said on condition of anonymity.
Lee Byung-ryung, a South Korean nuclear expert who was involved in a now-canceled U.S.-led project to build two light-water reactors in North Korea, said a reactor of that size "doesn't appear to be a meaningful source of electricity because it is small."
Under a 1994 deal to freeze North Korea's atomic program, the U.S. and other nations promised the energy-starved North two light-water reactors that would have be less likely to lead to nuclear proliferation. The deal collapsed in 2002 when the U.S. accused North Korea of running a secret uranium enrichment program.
After nearly seven years of adamant denials, North Korea announced last year that it was in the final stages of uranium enrichment — a process that would give it a second way to build atomic bombs in addition to its earlier plutonium program.
There has been no recent sign of progress in restarting stalled talks on ending North Korea's nuclear programs.
North Korea carried out nuclear tests in 2006 and in 2009, drawing international sanctions each time.
Just before the second test, North Korea quit the nuclear talks, but it has recently expressed a willingness to rejoin the negotiations, which involve the two Koreas, the United States, China, Russia and Japan.
However, South Korea and the U.S. have said North Korea must first take specific moves to demonstrate its sincerity.